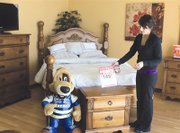 Need a flat screen television set? How about a laptop computer or a new bedroom set?
For Sunnyside residents that do they are in luck as a new Aaron's store is open in Sunnyside.
"We felt it was a very attractive market for us," said Rohnn Lampi, owner of Aspen Way Enterprises, Inc.
He is a franchise owner of 16 Aaron's stores, including one each in Kennewick and Yakima.
"It's a good demographic for us, a good fit," he added.
The store opened in Sunnyside on April 1 and a ribbon cutting ceremony will be held on Thursday, April 14, at 4 p.m. The store's big grand opening will be held on Friday and Saturday, April 15-16.
The store offers a little bit of everything. There are name brand refrigerators, washers and dryers, computers, televisions, cameras and lots and lots of furniture.
From couches to comfortable living room chairs, Aaron's has it all. Bedroom sets for kids and adults are available, as well as dressers, end tables and coffee tables.
Currently the store only offers brand new items, but as some items come back, Lampi said pre-leased items will be offered, as well.
"We try to keep a balance of 75 percent new items and 25 percent pre-leased," he said. "It's the nature of the business that some items come back."
Customers can buy the products outright or choose an 18 or 24-month payment model. The store's main competitions will be businesses like Rent to Own or Rent a Center, but Lampi said Aaron's does more retain sales than these competitors.
Aaron's also has a low-price guarantee on every item in the store. If a customer can find a lower price, and Aaron's can't beat it, the customer will receive $100 in cash.
"We strive to be the lowest priced alternative in the market place," Lampi said.
Currently the new Sunnyside store employs five people, but Lampi said he expects to add more positions by year's end. More could follow as the business grows, he said.
Aaron's is located at 2600 E. Yakima Valley Highway, Suite 3. The hours of operation are Monday through Thursday, from 10 a.m. to 7 p.m.; Friday, from 10 a.m. to 8 p.m.; and Saturday, 10 a.m. to 5 p.m. The store is closed on Sundays.