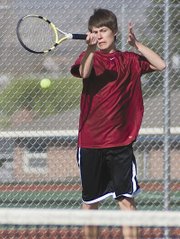 GRANDVIEW - The Grandview Greyhounds faced the Toppenish Wildcats on the tennis court yesterday (Monday). The Grandview boys team finished with a 3-2 victory over Toppenish, while the girls team lost 4-1.
Grandview won both boys single matches yesterday. Ryan Rodriguez triumphed in the No. 1 match against Toppenish's Emmanuel Rodriguez 6-3, 6-0.
Meanwhile, Ezequiel Zamora claimed the No. 2 match victory for Grandview after defeating Marin Cantu, 6-0, 6-0.
Toppenish struck back in the doubles matches, with the Wildcats earning wins in both the No. 1 and No. 2 boys double matches.
The No. 1 match went to Gavin Reynolds and C.J. Stauffer. They won in three sets (4-6, 7-5, 6-3) against Grandview's Angel Lopez and Stevan Ramirez.
"Despite the loss," said Coach Ronda Penwell, "Angel Lopez and Stevan Ramirez played very well together and looked very solid."
Ricardo Palmas and Nick Huylar went on to defeat Grandview's Ivan Campazano and Marcus Morales in the No. 2 boys doubles match. Palmas and Huylar also won in three sets (4-6, 7-6, 6-0).
The Greyhounds returned to finish the boys matches with a victory in the No. 3 boys doubles match. Abel Reyes and Brock Jetke defeated Toppenish's Enedeo Garza and Reymundo Encisco, 6-0, 6-3.
With one exception, the Lady Greyhounds struggled against Toppenish's girls team.
Jessica Hernandez faced Leslie Avalos of Toppenish in the No. 1 girls singles match. Avalos claimed victory over Hernandez with a 6-0, 6-2 decision.
Meanwhile, the No. 2 girls singles match went to Grandview's Hannah Grow. Grow won 7-5, 6-1 against Toppenish's Yessica Regis, giving the Grandview girls their only win of the day.
In doubles play, Bailey Huylar and Vania Zuno of Toppenish defeated Mayra Escareno and CaSandra Hudon (6-2, 6-2) to claim victory in the No. 1 girls doubles match.
The No. 2 match went to Andrea Padilla and Araceli Aguilera, who won 6-1, 6-4 against Grandview's Sadie Wyatt and Anna Herrera.
Toppenish's Susana Cruz and Beatriz Garciana claimed victory in the No. 3 girls double match after they defeated Gabby Avalos and Karissa Carpenter, 7-5, 6-2.