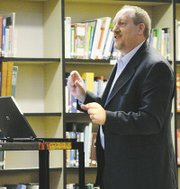 GRANDVIEW - What should grades really represent, asked Wilma Kozai, Grandview School District's Assistant Superintendent of Teaching and Learning, at Monday night's board meeting.
It was a question heavily discussed by the board.
Kozai presented an update from the district's grading committee, which is looking for the best way to unify the district's grading policy.
Kozai revealed that, depending on the teacher, a grade can represent something different. She used extra credit as an example, revealing that one teacher awards extra credit to students for purchasing a book outside of school, while another may award extra credit for buying a candy bar at an event.
What does that have to do with achievement, she asked.
Grading policies can vary from each class, placing emphasis on different things. Homework may be work more of a student's grade than quizzes in one class and not in another; tests may be retaken in one class but not in another.
Initiating a grading policy that would confront these issues, Kozai argued, would help improve communication between students, parents and school staff. There would be greater consistency in grading throughout the district and grades will actually reflect academic achievement toward state standards, not just their average performance.
The board agreed on the importance of the work and each had their own examples of grading inconsistencies that they hoped would be addressed by the grading committee.
Board Director Alfonso Contreras also expressed concern that, regardless of the grading policy, teachers would implement the guidelines in different ways, leaving many students behind. He emphasized that a great majority of students and parents do not discuss grade inconsistencies with teachers and school staff. They merely accept the teacher's authority.
Kozai acknowledged the concern and said that it would be up to the buildings to ensure that teachers follow the policy.
She concluded by informing the school board that another meeting has been planned for Thursday, April 14, and the grading committee hopes to have a policy in place by June.