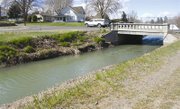 GRANDVIEW - While some in the Lower Valley may experience a delay in receiving their irrigation water, the overall picture is rosy for now.
As for the delay, city of Grandview residents are not yet running irrigation water for their yards and gardens.
Santos Trevino is the assistant public works director for Grandview and he says the delay is related in part to working out the kinks in a new pipeline system installed by SVID this year.
Part of the issue, he says, is that it wasn't until last week before piped water was delivered to the irrigation stations in Grandview.
Trevino said the delay was also caused because some residents are having issues with the irrigation water and asked for it to be shut off.
Trevino says his deadline to have the water on is this Friday, April 15, but the irrigation supply is usually available two weeks earlier, around April 1 each year.
"Our citizens are kind of spoiled so hopefully they'll bear with us," he said. "With all the changes that have occurred we're working the bugs out and should have everything ready by Friday."
Grandview aside, the Lower Valley is enjoying a good water year so far with recent snows in the mountains.
"Way above average precipitation and near to below average temperatures brought tons of mountain snow in March," says Scott Pattee, a water supply specialist with the state's Department of Agriculture.
The figures back up Pattee's assessment, as heading into April the Lower Yakima River Basin's precipitation is 195 percent of average. Water levels in the basin are 11 percent of average.
Pattee predicted there is more snow in store for the mountains, which helps farmers here with irrigation water.
He anticipates a mix of good and bad news on the water front, though.
"Short term weather forecasts indicate a continuation of below normal temperatures and above average precipitation," Pattee said. "However, long term predictions show a trend toward a hot and dry summer."
Trevino says Grandview will be ready if irrigation hits a dry spell this summer.
"If it's a drought year SVID asks our residents to ration water use, to water on odd or even days depending on the street address."