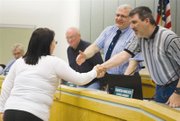 Last night the Sunnyside City Council was provided details regarding an agreement to be inked with Alegria and Company, P.S.
The city will be obtaining tax advice from the firm of certified public accountants in an effort to correct and resolve payroll tax issues that have arisen since 2007.
Deputy City Manager and Chief Financial Officer Byron Olson told the council, "One of the first things we did (when I was hired) was go through payroll."
He said he and staff at city hall found some "anomalies" regarding payroll taxes.
Incorrect figures were entered into the payroll tax software system and the city, for example, paid premiums on insurance pre-tax instead of post-tax, Olson said.
"Alegria will help us sort out and clarify how the IRS wants the funds reported," he said.
Councilman Tom Gehlen recused himself from the discussion, citing he knows personnel at Alegria.
Deputy Mayor Nick Paulakis asked if the city will have to pay penalties.
Olson responded, saying he is not sure. He hopes "some will be abated or excused because the issue was self-reported."
He said the city of Sunnyside will be able to discuss and work with the IRS, pleading its case in person, at a later date.
Usually, said Olson, the IRS doesn't send a person to talk with parties regarding tax issues. However, the agency will be sending one to Sunnyside.
He said he expects to have a full report for the city council once the work with Alegria is complete.
When asked if the payroll tax issue will continue, Olson told the council he expects the issues to be resolved. The software used for payroll has been updated and the human resources/payroll personnel at city hall will undergo training for proper use of the software known as EDEN.
He said the software is an elaborate system, but once proper information is input, proper calculations are made.
In addition to Anna Bullock, who is in charge of payroll, Olson has assigned Evi Jaquish as a back-up staff member capable of completing payroll.
Her responsibilities will include running payroll two times each year to keep up to date with her skills and to serve as an internal auditor.
When asked about whether or not staff was overpaid, Olson said it is not yet clear which city staff was overpaid and who was underpaid. He believes some were underpaid because of the benefit premium calculations that resulted from the wrong data.
City council members Mike Farmer and Pablo Garcia, Mayor Jim Restucci and Paulakis unanimously approved the use of Alegria and Company, P.S. for tax advise regarding the issues with payroll taxes.