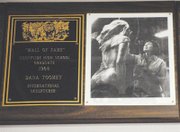 They are astronauts and educators, politicians and humanitarians. They've worked in business and science, universities and courtrooms.
Together, they've served their country and their community. They've broken barriers and advanced research.
They are Sunnyside's best and brightest, and a constant reminder of their good deeds hang over the heads of Sunnyside High School students, inspiring a new generation of explorers, innovators and academics.
They are Sunnyside High School's Wall of Fame.
Some names and faces on the plaques high on the wall in the SHS commons are familiar, such as Dr. Bonnie Dunbar and Sen. Jim Honeyford; some names are a little more obscure, but every single one of them made an important impact on their world.
Sunnyside High School's Wall of Fame began in the 1970s, according to school district communication director Curtis Campbell, but several years ago the nomination process stopped, only to start up again in 2009.
Nominations for 2011 inductees closed on April 1 and a selection committee is being organized to review nominees. However, a decision on winners will not be announced until this year's Sunnyside High School graduation day on Friday, June 3.
There have been 64 recipients since the wall's original incarnation. They were selected by a committee made up of representatives from the school, local businesses, city government and average citizens.
Among the plaques on the wall, people will find a similar make up. There are several teachers, both local and from universities; there is a former co-president of a mayor department store, a city mayor and firefighters.
There is even a high school student, Chris Shearer, whose early death in 1978 inspired the Senior Follies tradition that raises money annually for the American Cancer Society.
Most of the recipients graduated from Sunnyside High School in the 1950s, like Arlo Waggoner.
Waggoner graduated in 1955 and remembers his senior year being a great year. He was the editor of the annual, taking, developing and printing lots of photos throughout the year.
It was a talent he would develop after school. After four years in the Air Force, Waggoner returned to Sunnyside, where he worked several jobs, including one with the Sunnyside newspaper The Daily Newscast.
Photos in newspapers were an uncommon thing at the time, and Waggoner helped pioneer its development.
But his position on the Wall of Fame has more to do with his later activities.
Waggoner's real dream was to be a firefighter, and after 26 years as a volunteer, he joined the Sunnyside Fire Department as a dispatch clerk, where he served for another 21 years.
Waggoner also headed up the department's prevention and public relations program. For 30 years, he taught fire safety in schools.
But Waggoner may be best remembered as Waldo the Clown, his alter ego that has entertained the young and old even after Waggoner ceased teaching fire safety.
Waggoner says that being on the wall is great honor and he is happy to see the school reboot the Wall of Fame nomination process.
Five years after Waggoner came two other Wall of Fame honorees: Lynette (Bagley) Rodriguez and Dr. Erasmo Gamboa.
Graduates of 1960, Rodriguez and Gamboa had two very different high school experiences, but shared one jarring reality - no one expected them to go to college.
Rodriguez said that, like many women of the day, she was expected to get married. In fact, she had even gotten engaged her junior year, but her band teacher Don Hughes, another person people will find on the Wall of Fame, convinced her she had another alternative.
"He said, 'You have too much talent'," Rodriguez recalled. "'You need to go to college'."
Rodriguez managed to earn a music scholarship to Brigham Young University, where she worked toward becoming an English teacher, like Lila Ludwig, her high school English teacher.
Rodriguez returned to Sunnyside High School to teach and even taught college classes for Yakima Valley Community College for seven years.
"I am really proud to have retired from Sunnyside and to have been teaching in Sunnyside," Rodriguez said.
Gamboa did not attend college right out of high school. He was part of another group of people in Sunnyside who no one expected to seek further education.
"Being of Mexican descent in 1960, you were not encouraged to go into higher education," Gamboa said.
There were only five Latinos who graduated in 1960, he recalled, one of them was the class valedictorian. None of them were females.
Gamboa remembers how very small his graduating class and the community of Sunnyside was. Everyone knew each other and grew up together, but Gamboa still felt removed from his community.
When Gamboa graduated he went into the Navy. When he returned to Sunnyside, he was dismayed to see not much had changed in the country's attitude toward Latinos in higher education.
It wasn't until he discovered the University of Washington was recruiting minorities in 1968 did he finally apply for admissions - and was accepted.
In school, specifically, in a Pacific Northwest history class, Gamboa realized the Latino experience in settling the area was something historians never discussed.
"It was at that point I decided to take on that challenge," he said. "I decided to try and write that history."
It is something he has continued to do today. He works at the University of Washington and founded a special scholarship program 15 years ago that raises money for Latino students seeking higher education. They have awarded $120,000 in scholarships.
Despite all his struggles, Sunnyside continues to hold a special place with Gamboa.
"That's where I grew up and I still have family that lives there. It's a dear place."
Sunnyside High School graduate and Wall of Fame honoree Elaine Padgham Cullen agrees. A member of the graduating class of 1968, she had plenty of good things to say about her youth.
"Sunnyside gave me a firm foundation for the future," she said.
Cullen was very engaged in her school, participating in just about every school program available, though she laments that the district did not have organized sports for girls.
During school, Cullen was a member of the Athletic Girls Organization, which was very unofficial. There were no uniforms and no coaches, and the school teams only played against each other.
Cullen earned a PhD from Gonzaga University and was one of the first women to work underground in a mine.
At the time, women were not allowed to work in mines, Cullen said, but the mining companies were not allowed to discriminate against federal employees, which she was.
She also went on to work in a number of jobs, doing research in high risk industries.
"Probably the reason that I am on the wall is because I ended up having a different sort of a life that people think a woman should have," she said. "Most women don't work out on oil rigs, or commercial fishing boats, which I've also done."
But where ever Cullen goes, she says her experience in Sunnyside will be something that she will always carry with her.
"I will always be a Sunnyside Grizzly," she said, adding that the newest generation of Grizzlies can look forward to a full and exciting life if they are willing to seek it.
"I think for a lot of people, high school is when they think they're peaking. There is a lot out there - a lot of things to learn and do."
The evidence of which is found on the Sunnyside High School Wall of Fame, where you'll find doctors, and authors, and artists, and judges, and mayors, and so much more.
While nominations for 2011 have officially closed, the district is accepting nominations for 2012 inductees.