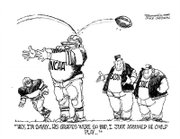 Now that I've irked some student-athletes, their parents and coaches with my last column - frankly entitled "If you've gotta cut, sports makes sense" - I'd like to continue with a Part II of sorts...
Last month, I argued that if schools need to make major budget cuts, removing school sports is a smart move. After all, school is about academics and the amount the school could save with such a cut is tremendous.
But the reality is that most schools won't need to do this. They'll hang on to their sports, either because they strongly believe in its benefit to their students (of which there are many) or they are not even near the financial crisis needed to make such a call.
So people in the Yakima Valley can rejoice! Spring is in full swing now and student-athletes have picked up their bats and racquets, brushed off their running shoes and golf clubs, and are enjoying a privilege they have earned.
As a reporter, I get to see a lot of these kids in action. I even get to write about them.
Now, I make no qualms about admitting that I am no sports fan. I have working knowledge, at best. But I can truly appreciate a team or individual's efforts, regardless of the results and regardless of the game.
Unfortunately, I've noticed that a lot of people don't hold student-athletes in the same regard. It never ceases to amaze me that the schools can pack the football stands on freezing fall evenings, but a baseball game on a warm spring afternoon is almost devoid of spectators.
Let me tell you, it doesn't matter how much you know about a sport, it doesn't even matter if you like the sport, watching student-athletes take the field, track or court is exciting.
You don't need to have a student to root for to enjoy the game, you just have to have a team.
Sports in the Yakima Valley may not be in danger of getting cut, but if parents and community members don't take the time to enjoy them as they should - well, you never know.
This spring, people can take in a variety of sports for their enjoyment. Enjoy baseball? Then go catch a school game. Better yet, go watch a softball game. Female athletes are always under appreciated.
Like golf? There are chances to enjoy live events all over the Yakima Valley.
Want something that'll make you hold your breath in anticipation? Try watching runners leap over hurdles at a track meet.
The fact is that the only way to truly protect your school sports is turn out to support them. Many spring sports have no admission fees, but break out the wallet if they do. It'll be worth it.
Student-athletes need to know that what they do is bigger that what happens on the field. They need to know their effort is supported and appreciated beyond the locker room.
But besides the benefit to the students, attending these games, matches and meets is just one step toward building a better community. This is an opportunity to connect with individuals over a common interest - whether that interest is the sport or the school.
So Viking fans and Greyhounds, Grizzlies and Knights, come together and support your spring sport teams.
But remember, it doesn't matter if they win or lose every game - what matters is that you were there to support them through it all.