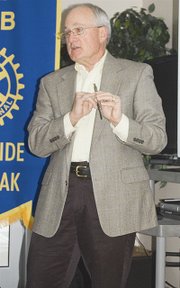 "This is as bad as it can get," retired nuclear engineer Chris Powers said of the Fukushima nuclear power plant crisis.
Powers made his comment during a presentation to the Sunnyside Daybreak Rotary Club this morning, Wednesday.
Powers said the plant was built to withstand a six-and-a-half-meter (about 19.5-foot) tsunami wave, but the one generated last month by Japan's 9.0 earthquake was seven meters high (about 21 feet).
He said matters were made worse by the fact Japan's northern coastline sunk three feet because of the earthquake and resultant tsunami.
Powers, a Tri-City resident who helped build and start up Fukushima reactors five and six, said reactors one through four are so damaged they will never operate again.
Reactors five and six were spared, he said, and could be operational again. Powers says that's because they are newer and reflect additional safety measures like those now used at nuclear plants in the U.S.
The Columbia generating system, for example, has three emergency generators plus a mobile fourth generator in case of power loss.
In addition, Powers says more modern plants like Columbia have a diverse electrical system and better infrastructure. He notes the Columbia system, for example, could withstand a breach of Grand Coulee Dam.
One of the unknowns in Fukushima's aftermath, he notes, is how much radiation was released into the sea.
While not wanting to minimize the damage at Fukushima, Powers did disagree with the decision to place the site at a seven on the nuclear emergency scale. That's the highest rating and the same set for the Soviet Union's Chernobyl plant.
Powers says Chernobyl was actually a nuclear explosion, causing far more nuclear exposure to the public than Fukushima.