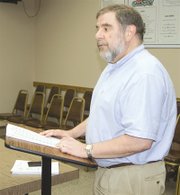 GRANDVIEW - With the first quarter of 2011 in the books, Grandview's budget is on track.
That's according to City Treasurer John Myers, who provided a budget update to the Grandview City Council last night, Tuesday.
"There are no surprises, we are generally healthy," Myers told council.
Grandview started 2011 on the right track, as the current expense or general fund's beginning balance was $1.1 million, $110,000 more than expected.
At the same time, Myers said anticipated expenditures from the current expense fund will be increased by $28,200 to $4.84 million. He explained the spending increase is due to additional needs for small tools and equipment.
Grandview's street fund is expected to end the year with $6,700 more than expected due to reimbursements the city received for the Euclid Road overlay project.
Other amended 2011 budget totals council approved last night included adding a total of $262,000 into the downtown ALIVE construction fund.
Myers says that's because the downtown improvements were originally scheduled to wrap up in 2010, but portions of the project and accompanying funds carried over into 2011. He told council the project and related funding will conclude this year.
Council also amended the solid waste fund as the $190,340 beginning fund balance to start 2011 was $30,000 less than expected.
Conversely, the water/sewer fund was amended to reflect that the $1.16 million beginning balance was $36,000 more than expected.
The net effect of all the budget amendments last night is a $154,700 gain for the city of Grandview.
"It's good news, but in the big picture it's less than 1 percent," Myers said.