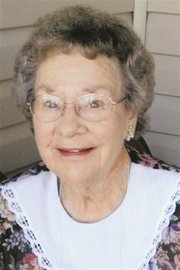 GRANDVIEW - On Saturday, April 2, Clarice Grove of Grandview celebrated her 90th birthday.
She was born April 1, 1921 and has lived in Grandview most of her life.
Grove has two sons and four grandchildren. Her sons and their families; Jim Grove of Anacortes, Washington; Roger Grove, of Caldwell, Idaho and dear friends Willard and Cathy Mears of Grandview hosted an afternoon reception in Grove's honor at the Grandview Nazarene Church.
Nearly 125 guests came to wish her a happy birthday. Friends and relatives came from Kansas, California, Oregon, Idaho, Montana and Washington.
In the evening, 45 family members and friends gathered at Snipes Mountain Restaurant in Sunnyside for a delicious meal.
Grove noted: "It's great to be 90 and have so many of my family and friends come to visit!"