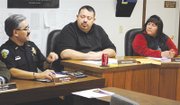 MABTON - At Tuesday night's Mabton City Council meeting, Mabton Police Chief Rick Gutierrez presented a plan to implement three new programs to boost crime awareness and prevention.
The first is the widely known and often used Neighborhood Block Watch.
Gutierrez said this program can be easily and quickly implemented in the city of Mabton. Aside from some minimal costs, including street signs and other tools for the neighborhood watches, this program can be initiated without great costs to the city.
For this program to get moving, Gutierrez needs people in Mabton to step forward and volunteer to be block watch captains. Material handed out at the meeting included information on how these captains can implement block watches and organize meetings, phone trees and patrols.
The phone trees are particularly important, Gutierrez said. In order for pertinent information to flow, everyone on the tree must call the people on their list.
There is some training involved, but Gutierrez said there has been considerable interest in the program.
Another program, the Citizen's Academy, would take more time to organize, but would leave Mabton participants significantly more aware of suspicious activity and law enforcement.
In order for people to attend this 12-week class, they must be able to pass a background check.
Once again, Gutierrez says there is little cost involved with implementing the program and the police department has already secured a location for the class at Mabton High School.
There would be no cost for attendance. Students will learn about police procedure and how to identify suspicious circumstances. The program would also bring in several guest speakers, including police detectives, K-9 units and prosecutors.
Graduates from this program can elect to take their knowledge one step further with Gutierrez's third program: Citizen Patrol.
This program is being used by the Yakima County Sheriff's Department and the Union Gap and Yakima Police Departments, Gutierrez said.
Citizens in this program would patrol the city in an unmarked police car. They will be trained to recognize criminal activities and suspicious conditions.
Participants must be at least 21 years old, Gutierrez revealed, and they must also have graduated from the Citizen's Academy course.
People in this program will not have authority to makes arrests, but they will report to the department activity that needs immediate attention.
The cost for this program would include a jacket or windbreaker that would identify the participants as members of the Citizen Patrol, and gas for the car.
The city is awaiting approval from its insurance carrier before they can agree to employ this program.
"It's just an extra pair of eyes out there for us," Gutierrez said. These programs can also be an excellent deterrent against crime.
No action was needed to approve the programs last night, though the Mabton Council was receptive to Gutierrez's plan.
Anyone interested in learning more about the programs is asked to contact the Mabton Police Department.