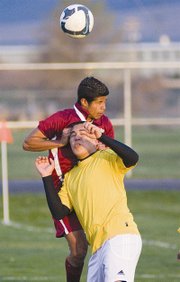 MABTON - The Mabton High School soccer team lost its second straight match last night (Tuesday), a 2-0 decision against the Wahluke Warriors in SCAC play.
The loss puts Mabton at 2-5 in league play, 3-5 overall.
"The team played really good," Mabton Coach Junior Garcia said, despite the loss. "We got there, we were knocking on their door the whole time. I guess it's just bad luck. It was another one of those days."
The Warriors scored in the 25th minute of play when Heriberto Mendoza headed the ball past Mabton keeper Gerardo Barajas for the score.
A little bit later the Vikings had the ball inside Wahluke territory. A Mabton player kicked the ball and a Wahluke player touched it with his hand while he was inside the 18-yard penalty box, but no call was made.
"It could have been a different game," Garcia said.
He said the non-call kind of brought his players down. If the call would have been made it would have given the Vikings a penalty kick and a chance to tie the game at 1-1. Instead, the Vikings were left to wonder, what if.
The Warriors scored again early in the second half during the 45-minute mark. Garcia said there were a bunch of deflections around the Vikings' goal after a throw-in attempt and all the players were challenging for the ball. At one point a Wahluke player took a shot but the ball ricocheted off a Mabton player. Manuel Martinez picked up the loose ball and kicked it in for a 2-0 lead, a score that would hold up for the rest of the match.
Mabton had its opportunities for goals during the match but most of them went high.
"We had a couple of shots right in front of their goal," Garcia said. "They went over. We got to practice more on that."
Barajas recorded eight saves for the Vikings. Cesar Tlatelpa had six saves for Wahluke.
The Vikings next host Highland on Thursday, April 14, at 6 p.m.