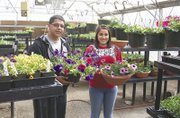 MABTON - As spring is upon us again, it is that time of the year for the annual Mabton plant sale.
Many students have worked hard planting numerous vegetables and flowers in anticipation of the sale, which will take place Friday, April 29, through Sunday, May 1.
Several horticulture students spent numerous hours nurturing the plants with the assistance of Mabton FFA members. Some of the more popular varieties of flowers grown by the students include geraniums and petunias.
"We are also growing some vegetables," said Mabton FFA President Karen Mendoza.
Tomatoes, bell peppers, hot peppers and cucumber plants will also be available for purchase at the plant sale.
"The students grew the vegetables from seeds," said Randi Krieg, Mabton agriculture teacher. "The benefit of this process allowed them to learn about germination."
Vanessa Sanchez, an FFA member and horticulture student, said, "It's pretty cool to see that we could grow something from a little seed into a plant!"
Proceeds from the plant sale will benefit Mabton FFA activities. Most of the students use the money they earn during fundraisers to pay for their registration fees for the State FFA Convention in Pullman and the National FFA Convention in Indianapolis, Ind.
"We will have 24 students competing this May in Pullman and six members attending Nationals in October," said Mendoza.
Offered at the annual plant sale will be six-cell packs of petunias, lobelia and portulaca for $2; 3.5-inch petunias, lobelia, bacopa, millions bells, verbena, osteo, diascia, creeping charlie, dracaena spikes, potato vine, and argyrauthemum for $1.50; 3.5 inch geraniums for $2; 2-inch vegetables for 50¢; 6-cell packs of vegetables for $1.50; 14-inch mixed annual pots for $16; 10-inch mixed annual hanging baskets for $14; and 8-inch mixed annual hanging baskets for $10.
The sale will be held at the Mabton High School greenhouse across from Blue Sky Market from 7:30 a.m. to 12:30 p.m. on Friday; 7 to 11 a.m. on Saturday; and 9:30 a.m. to 2 p.m. on Sunday.