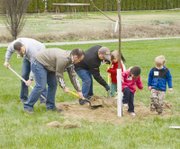 GRANDVIEW - Nearly 40 people yesterday (Wednesday) gathered at Grandview's Dykstra Park to plant 18 new trees.
The trees were donated by several Walmart stores, as well as the Walmart Distribution Center, Country Mercantile, and Pat and Tammy Mason.
"Walmart donated 11 trees," said Grandview Parks and Recreation Department Director Mike Carpenter, noting another six trees were donated by Rick and Susan Gordon, owners of Country Mercantile.
The trees planted included maple, ash, red oak, linden and shade master honey locust.
Each Arbor Day, the community of Grandview celebrates by planting new trees.
This year, Brian Cramer of the Washington State Community Forestry Council announced Grandview is for the 14th year running a Tree City USA.
Mayor Norm Childress said Grandview is proud to have that designation and takes pride in how the community appears.
"Adding trees to the city is great because who doesn't like to look at trees," he said, adding the trees in the community provide places for squirrels to seek food and to play.
Also present for the event were several youngsters from ABC Daycare and Preschool in Grandview.
The youngsters designed posters celebrating Arbor Day and learned the important role trees play in the ecologic system.
Assistant Parks and Recreation Director Gretchen Chronis quizzed the children about the animals that benefit from trees, the fruits and nuts that grow on trees and the role trees play in providing oxygen for the people and creatures of the earth.
Cramer spoke about Grandview's efforts in planting a variety of trees throughout the community. He noted, "There has been a lot of thought into the effort."
He presented Childress with a Tree City USA flag to be flown once the Grandview Community Center project is complete.
Shortly after, Cramer explained how trees should be planted and turned those gathered loose to plant the 18 trees at Dykstra Park.