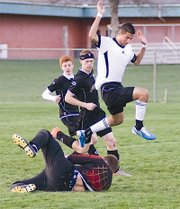 The Sunnyside High Soccer team bounced back from two straight losses last night (Thursday) to beat the Hanford Falcons at home, 2-0.
With the wind at their backs the Grizzlies were able to put the Falcons on the defensive immediately. After running three consecutive plays Sunnyside scored early in the fourth minute.
Sunnyside Coach Juan Pineda said Fernando Palma was able to get a good cross to teammate Jesus Gudino, who trapped the ball in traffic, inched forward, then blasted a shot between a Hanford defender and keeper Ryan Toth.
With the Grizzlies up 1-0 they suddenly became more aggressive and moved players up to attack. The tactic worked in the 12th minute when Gudino carried the ball down the right side of the field and crossed it to teammate Reyes Cuevas, who beat his opponent and jumped in the air to head the ball past Toth for Sunnyside's second goal.
After that the Grizzlies took control of the match, owning every play by winning possessions and getting more physical.
"We gained a lot of confidence," Pineda said.
In the second half the wind was at Hanford's back and it was their turn to take advantage. The Falcons were able to move the ball quickly up to midfield, but the Grizzlies stopped them there. After about 15 minutes of aggressive play by Hanford, Sunnyside was again firmly in control of the match.
There were a couple of scoring opportunities for Sunnyside in the second half. At least two one-on-one situations were broken up by Toth.
"He made some sensational saves," Pineda said of the Hanford keeper.
Sunnyside recorded nine shots on goal and Toth was able to save seven of those. Hanford managed six shots on Sunnyside's goal. Grizzly keeper Eddie Garcia recorded three saves.
Sunnyside (4-4, 5-4-1) next will travel to East Wenatchee to play Eastmont on Saturday, April 16, at 1 p.m.