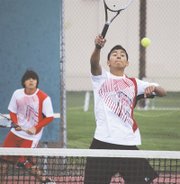 The Sunnyside High School boys and girls tennis teams yesterday faced Pasco at home and were unable to come up with team victories.
The Grizzly boys lost 6-1 to the Bulldogs but the Lady Grizzlies were more competitive, only losing 4-3.
In No. 1 girls doubles action, Emily Meyer and Jessie Robert handed Bulldogs Anduyen Ta and Kelsie Price a 6-4, 6-1 loss.
Sunnyside No. 2 girls doubles players Jill Spini and Keala Drollinger followed their teammates, securing another victory. Spini and Drollinger battled Alex Killian and Sierra Connoly of Pasco to win the first set 7-5. The Lady Grizzlies continued the fight, and handily won the match at the net in the second set, 6-2.
Lydia Robert and Adilene Torres had a tougher match on their hands in No. 3 doubles play. The duo battled through the first set to secure a 7-5 win against Viv Garza and Summer Flowers of the Bulldogs. The Lady Grizzly duo dropped the second set 6-4, but volleyed back and won the final set 6-4.
The Lady Grizzly singles players weren't as fortunate as the Bulldogs knocked the wind out of their sails one-by-one.
Perla Alcantar (No. 1) was defeated by identical 6-0 sets by Misti Smith of Pasco; No. 2 singles player Kassie Ortega of Sunnyside was handed a 6-1, 6-3 defeat by Kelle Meheen; Eury Gallego of the Bulldogs defeated Sunnyside's Sonia Romero 6-2, 6-0; and in No. 4 singles play Ashley Marquez succumbed to Pasco's Magoli Uriostequi 6-2, 6-0.
The lone Grizzly boys victory came in No. 2 doubles play. Teammates George Noyola and Josiah Miranda of Sunnyside fought through the first set to win 7-5. The Grizzly duo faced Bulldogs Alejandro Pacheco and Reyes Gonzalez. The second set was a little more lopsided as Noyola and Miranda came away with a 6-2 victory to win the match.
"The boys line-up was rearranged this week due to injuries as Javier Aguilar moved up to No. 1 singles today," said Sunnyside Coach David Downing.
Aguilar faced Marco Moreno of Pasco at the net and fell 6-3, 6-0.
Downing said he was pleased with how well Aguilar played in the first set.
Grizzly Scott Laverman moved from No. 1 singles to No. 2 against Pasco. Bulldog Manuel Sandoval and Laverman had several close games, but the Grizzly netter was unable to secure a victory, losing the match 6-3, 6-4.
Sunnyside's Jaime Garcia moved up to the No. 3 singles position and fell 6-4, 6-1 to Pasco's Jeff Miliard after battling hard through the first set.
In No. 4 singles play, Anthony Salcedo of Sunnyside was eager to win a match. He won the first set 7-5 after a long battle, but dropped the second and third sets 6-4, 6-1.
The Grizzly boys duo of Iran Brambila and Ricardo Sanchez moved up to play No. 1 teammates Edmund Guerrero and David Pimental of Pasco. Unfortunately, the Sunnyside teammates succumbed 6-2, 6-4 to their Bulldog counterparts.
In No. 3 doubles play Luis Paredes and Brenton Edwards of Pasco handed Jacob Martin and Zach Halma a defeat after battling through each set for identical 6-4 scores.
"With all the adjustments to the team from injuries and absences, the (Sunnyside) team made a great showing," said Downing.
He said he is looking forward to the next match, which is Monday at home against Kennewick.