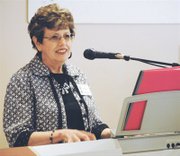 PROSSER - "Even Christians get depressed," said Wanda Lehmkuhl at Tuesday's Lower Valley Christian Women's Connection meeting in Prosser. ""If you need help, go get it."
Lehmkuhl, the guest speaker at the gathering earlier this week, traveled from Payette, Idaho to talk to the ladies about her own personal experience with depression.
"We all have goals and plans," she told the ladies, "but they don't always pan out."
Life can throw all kinds of obstacles for us to handle, she said.
She began by telling the crowd about the beginnings of her 48-year marriage to her husband John.
They met in college, she said, but he soon received a letter from the draft board telling him to either enlist or be drafted.
John enlisted.
After a 9-month separation, he went to Payette and they got married.
On the long road trip to Fort Gordon in Georgia, Lehmkuhl began to grow concerned she had made a mistake marrying. She loved him, but she was hit by a wave of doubt.
John pulled over the car in Wyoming and offer to take her back home, but she refused. To help her, he took her hands and prayed, "God, give Wanda peace in the new step in her life. As we go into our future together, give her peace and contentment."
That helped give her the strength to move on, but she soon learned that the plan she had for her life with John would include many ups and downs, such as having both her children born with medical problems.
Despite this, she and John remained strong together because she knew that God was at the center of their marriage.
Depression did not really hit Lehmkuhl until many years later. The couple was back living in Payette and operating a music story in Ontario, Ore., but when the business began to struggle financially, Lehmkuhl began to show signs of the stress physically.
She reported chest pains to her doctor, who at one point thought she might have been having a heart attack; however, upon closer inspection, they attributed it to stress and recommended she take some time to rest.
Unfortunately, that rest turned into days of lying in bed, loss of appetite and over whelming sadness.
Lehmkuhl wrote this short poem in her journal at the time:
Depression
Total sadness
Nonfunctional
More than a blue day
More than a vague discomfort
Barely able to lift my head
A heavy hood covers my soul's eyes
A rope chokes my emotions
I dread life
No one understands!
Looking back, she says the poem seems like a lot of self-pity, but the emotions were real.
"Depression is actually a disease that controls our mind, controls our body and can threaten our lives," she revealed.
During this dark time in her life, John took his wife to spend a weekend at a condo near a lake in Idaho. While there, Lehmkuhl listened to Ron Huff's "Exaltations," a tape of praise songs and scripture.
Lehmkuhl says God told her to write the words from the tape. Through this, she realized she had locked God out of her spirit.
Lehmkuhl was not immediately healed from her experience, but she says it was a critical turning point in her recovery.
The story of Lehmkuhl's battle against depression is detailed in her book Rain Brings Rainbows, which she sells for $11.50.
A copy of her book can be obtained by e-mailing wanda@fmtc.com, writing to Joyful Sound, 2141 Bonnie Drive, Payette, Idaho 83661 or calling 208-642-1222.