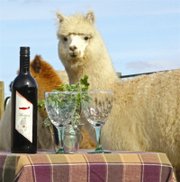 PROSSER - To celebrate Spring Barrel Tasting this coming weekend, Sage Bluff Alpacas will host its first open house of the season tomorrow (Saturday) from 11a.m. to 4 p.m.
Community members and those out enjoying Spring Barrel Tasting events are invited to meet the alpacas, shop luxurious alpaca retail, enjoy fiber arts demonstrations, refreshments and more.
Sage Bluff Alpacas will introduce its new collection of women's and children's sweaters that are simply... to live for! Made of 100 percent baby alpaca wool, with handcrafted detail, each is a work of art. New yarns have arrived, as well as a great selection of children's toys.
Alpaca cookies by Taste of Heaven Baking Co. will be offered for sale to benefit the Prosser Boys and Girls Club. Free 'paca poo' is available for gardeners.
Bring your kids and your camera for a fun opportunity to learn more about the engaging alpaca.
Sage Bluff Alpacas is conveniently located between Vintner's Village and Historic Downtown Prosser, at 8401 S. Steele Road.
Cannot attend? Visit Sage Bluff Alpacas' web site, www.sagebluffalpacas.com, or phone 509-786-4507 to schedule a private tour. Visitors are welcome daily by appointment.