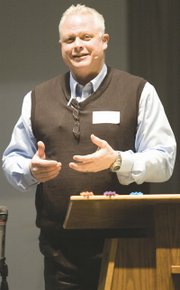 Dr. Dan Doornink, best known as the lovable Seattle Seahawks' running back from 1979 to 1985, gave the keynote address at last night's Young Life banquet in Sunnyside and urged those in attendance to be bold in sharing their relationship with Jesus Christ.
He noted that it's not always easy to share the gospel with those who haven't heard it yet, but encouraged those to try.
Doornink shared his life story at the banquet, starting with growing up in Wapato. There he first learned about the gospel from a Japanese lady and was saved.
"It's great to be saved before there is a lot of junk in your life," he said.
Growing up in Wapato Doornink said he enjoyed sports and played quarterback on the football team.
"I always hated playing against Sunnyside," he admitted. "They had more guys than we did and I always got killed, but I don't hold it against you guys."
After high school Doornink had several choices as to where he could attend college. He could have gone to Colorado, the Air Force Academy and the University of Washington. At mentioning the last college Doornink stopped.
"I think I'm going to be ill," he joked.
Doornink chose Washington State University because there was a really good church there that had a Bible study class six days a week.
"It was like going to Bible school and college all at the same time," he said.
Doornink shared some of his stories playing football for the Cougars. He was a quarterback on the team until he was asked to play running back in practice. According to him, he was just supposed to be used as a tackling dummy, but ended up breaking an unwritten rule and ran over a couple of seniors in practice. He soon became the starter.
After college Doornink was drafted by the New York Giants, where he played one year before being traded to the Seattle Seahawks.
In New York, Doornink said he couldn't find a very good church to attend and when he was traded to Seattle, he found out the pastor he had in Pullman had moved to the Seattle area and preached at a church that was a couple of blocks from where Doornink moved his family.
"It was like someone had a plan," he said.
He was also able to attend medical school at the UW, noting the school allowed him to learn at his own pace.
After leaving football Doornink began his medical career. He now practices in Yakima.
He said as Christians, "We have to do something."
He admitted it's easy to give the gospel to people in his own office because it's his comfort zone. Last year he finally stepped out of his comfort zone.
He went on a mission to Argentina, where he was able to spend 10 days giving medical treatment to people. It was something he loved doing, but also a bittersweet moment.
"It was sad for me to find out that this was what I was made to do, but I hadn't done it before," he said. "The reason I never did it was because I was kind of scared."
He admits that sounds a little corny. After all, he played football in front of thousands of people on national television. He went up against men much bigger and heavier than him and never suffered a major injury. Yet it took a long time for him to step out of his comfort zone and do the Lord's work.
He's not scared any longer and he encouraged those in attendance at last night's banquet to step out of their comfort zone and help people hear the gospel.
"Statistics show that if you don't catch people by high school, you probably won't catch them and they won't be saved," he said. "That's why Young Life is so important."
Doornink believes there is a sense of urgency now, as the world is becoming a scarier and scarier place.
"It makes me wonder if there's not a lot of time left," he added.
"Be bold," he said. "What's the worst that's going to happen to you?"