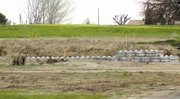 Most of Sunnyside's $3.8 million in new building valuation for the month of March originated from one project, Hillcrest Manor's new physical therapy wing.
The 16,000 square-foot addition, which will include 20 beds in addition to rehab areas, is valued at $3.5 million. Sunnyside city coffers garnered $24,315 in permit fees from the project.
Also in March, Sunnyside officials approved a new housing start in the 1400 block of West Madison Avenue. The single-family home is valued at $135,455 and generated $1,976 in permit fees for Sunnyside.
Other notable new starts last month included commercial tenant improvements in the 1100 block of East Yakima Valley Highway, valued at $195,000.
Also in March, Lower Valley Hospice received a thumbs up to convert a garage into office space at a valuation of $5,000.
Nearly a third of the 28 building permits approved by Sunnyside staff last month were for re-roofing projects.
Led by a $75,000 re-roofing for Bank of America, the nine projects had a combined valuation of a little more than $100,000.
For the month of March, Sunnyside received $32,158 in building permit fees.