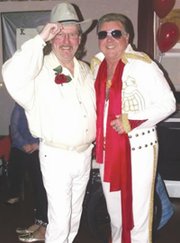 April 10-16 was National Volunteer Week, when organizations across the country took the time to recognize those unpaid helpers who give their time and energy selflessly.
There are many ways for Lower Valley residents to become in engaged in their community, but none maybe as rewarding as volunteering.
"If you take your eyes off of yourself, you are blessed," said Elizabeth Knowles, with Sunrise Outreach Center in Yakima.
Knowles knows a great deal about volunteering. Other than giving her own time to aid the Valley's homeless population, she has helped organize a great many new volunteers, like Sunnyside High School senior Janet Cuevas.
Cuevas says she has always enjoyed helping people and would often fundraise and collect canned foods just because she wanted to help. But when it came to working on her senior project, she wanted to take her extra activities to a new level.
For her senior project, Cuevas helped Knowles, who acted as her senior project advisor, put together hygiene kits and serve food through a sandwich ministry.
Cuevas also organized her own food and clothing drive. She had a goal of collecting 1,000 canned goods and clothing, but only brought in about half of that.
"Although I didn't reach my goal," she said, "I was just so proud people wanted to help."
Knowles was also pleased with Cuevas' work. She said of Cuevas, and two other high schoolers who volunteered with Sunrise Outreach, "They really made a difference and big impact on their community. We really do have a great community that is very giving and loving."
Laura Tollefson, activities coordinator at Hillcrest Manor, agrees with Knowles. Some of Hillcrest's approximately 68 volunteers have been at the resident care home longer than Tollefson, who came to Sunnyside from Seattle in the 1980s.
Tollefson said she never experienced the same level of care and commitment from volunteers in Seattle as she does here.
"If I didn't have these volunteers," she said, "I'd be at a loss...they bring comfort, companionship and comfort. They bring that joy of giving their time."
Carol Johnson is one such Hillcrest volunteer. The 81-year-old Sunnyside resident has made volunteer work a lifetime commitment.
"At least all my married life," she said, adding that she was married in 1956.
Johnson says she really began her volunteer work with children organizations like the Boy Scouts and Catholic Youth Organization.
"If you want your kids to be part of anything, you've got to help out," she said.
Johnson said she did not like when certain organizations began paying people for their work.
"I felt like it took something away from what we were doing," she said. "I was doing it for them (the kids) and for me."
Johnson is currently a Eucharistic minister for the Catholic Church. This allows her to bring a service and communion to those who cannot attend mass.
"I hope I never have to go into a nursing home," she said, "but if I do, I hope I find a Carol Johnson that'll do the same for me."
Johnson, Tollefson, Cuevas and Knowles all expressed similar sentiments for why they volunteer. Johnson even said people who don't volunteer are missing out on a great and fulfilling experience.
"You can never give to where you don't get back even more."