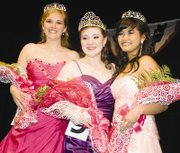 GRANDVIEW - She was the ninth, and final, candidate introduced but April Carrillo ended up on top as she was named Miss Grandview for 2011-12.
Carrillo won the honor during the Miss Grandview ceremony this past Saturday night. She is joined on the 2011-12 court by princesses Hannah Grow and Anjhellica Ampil.
Carrillo wowed the crowd with a speed-painting demonstration, while Grow and Ampil perfomed a tap dance and song, respectively.
The crowded Grandview Middle School gym had a clue Carrillo might win the crown, as she also won three individual awards prior to the big announcement.
Carrillo won the Be Your Best, Immanuel Lutheran Community Service and Spirit awards.
Candidate Casandra Ambriz won the talent award, Janessa Hoffard won the fitness award, Ampil the interview award and Karissa Carpenter the scholastic award.
Judges based their decisions on the 2011-12 court on criteria that included scholastics, fitness, talent, self-expression and an interview.