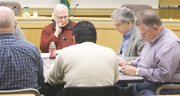 Barely four months into its 2011-12 budget, the city of Sunnyside is proposing to spend about $1 million more than anticipated.
That's according to a budget study session the Sunnyside City Council held this past Saturday.
The single biggest blow to the general fund, which covers many of the city's day-to-day expenses, would be $564,000 in extra costs for the police department.
Most of that money, about $400,000, will pay the salaries, benefits and operation costs for a crime analyst and two new police officer positions.
The $400,000 figure represents costs associated with the new hires for the final seven months of this year and for all of 2012.
Nearly $160,000 more will be spent on four new police vehicles.
The overall total represents a 10 percent jump in the police department's 2011-12 budget.
"There's going to be a renewed sense of performance expected results," Councilman Paul Garcia told Police Chief Ed Radder and Deputy Chief Phil Schenck.
"You're going to see the results," Schenck replied.
Another added cost proposed to the 2011-12 budget is $200,000 to hire two additional public defenders.
The move adds $100,000 to each year's budget and is required because of new state legislation regulating public defender case loads. Currently, Sunnyside has one public defender for an estimated 1,300 cases this year.
Sunnyside may be able to obtain grant funding to help with hiring the new public defenders.
In 2011-12 Sunnyside will take a $200,000 hit due to a budgeting error in payments for the West Sunnyside Business Park (formerly the Monson feed lot).
In his budget notes to council, Chief Financial Officer Byron Olson noted an oversight had the city making an interest payment on the property instead of an interest-plus-principal payment.
Correcting the error means Sunnyside will have to pay out $100,000 more than expected in both 2011 and 2012.
There are some smaller amounts Sunnyside will consider adding to the budget for 2011 only, such as $36,000 to Sunnyside's Promise for community center operations.
Council will also consider budgeting another $5,000 to keep the swimming pool open two additional weeks.
While adding expenses to the 2011-12 budget, council on Saturday tweaked the proposal.
That included removing $50,000 that was to be set aside for cleaning up pollutants at the Sunnyside Airport. City Manager Mark Gervasi cautioned, though, that "potentially we have a financial obligation at the airport in the next few years."
Had the $50,000 remained in the budget amendment, Sunnyside would have dropped its general fund balance to just $89,000 by the end of 2012.
Even at nearly $140,000, Sunnyside will only have a bit more than a tenth of the $910,000 Gervasi says the city should have in the general fund at the end of 2012.
The $910,000 figure is based on 10 percent of the original $9.1 million general fund budget for 2011 and for 2012.
The combined $18.2 million budget for 2011-12 originally planned for the general fund will be $19.2 million if the budget additions are approved.
Prior to the proposed budget additions, which council will consider next Monday, Sunnyside had planned to have nearly $1.2 million left in the general fund at the end of 2012.
Saturday's session did not consider how to make up the $1 million that will likely be spent out of the general fund.
Olson, though, said cuts and additional fees are going to be discussed in the next two or three months.
That discussion, he said, will include possibly assessing a $20 car tab fee on each vehicle owned by Sunnyside residents, raising building and permit fees, utility rate increases, service and program cuts, as well as lay-offs.
With council apparently set to gut the general fund budget, those measures will be needed not only for 2011-12, but for the forseeable future.
"Beyond 2012, the city's current revenue stream cannot support the additional appropriations anticipated (in the additional $1 million budget costs for 2011-12)," Olson said in notes prepared for council.