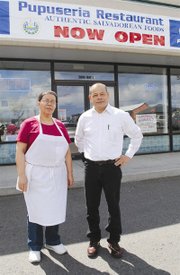 If it's time for something a little different for dinner, Sunnyside residents now have the option of going El Salvadorean.
Sunnyside's Joe Bonilla, Maribel Ruiz and Iris I. Alvarez just opened Pupuseria, a restaurant with a distinctly El Salvadorean flare.
Bonilla says he came up with the idea last winter. It was something different he could offer the Lower Yakima Valley, he said.
Bonilla approached Ruiz and Alvarez about entering into a partnership. They each had their own family recipes to bring to the business.
El Salvadorean food is not as spicy as Mexican food, Bonilla says, but they do offer a wide array of spices for any customer.
The restaurant centers on its namesake - the pupusa. Bonilla says they are similar to a torta or gordita, but the bread is made different and is definitely worth a try.
Pupusas come with a variety of toppings, but loroco may be the most unique. This flower is harvested just before it blooms, Bonilla says, and is imported to the United States from El Salvador.
The menu also consists of a variety of foods to suit any taste - from beef stew and menudo, to burritos and shrimp.
But if a guest is looking to eat something a little more American, they can find familiar foods on Pupuseria's menu, including cheeseburgers.
"We've lived here all our lives," Bonilla said, "so we've gotta have our cheeseburger and fries."
Bonilla says he was surprised to discover that the Lower Yakima Valley has a rather large El Salvadorean population that was pleased to see some of their native country foods reach this community. People have been coming all the way from Mattawa, Bonilla said.
"Business has been wonderful," he said. "And customers keep coming back."
Bonilla and his partners put together the business very quickly. He says they got all the permits and employees qualified in less than three weeks.
After looking at a couple locations, Bonilla was happy they chose their location at 2695 Ste. E on East Lincoln Avenue. Bonilla says it is good for his business to be located in the strip mall in front of Walmart, where there are a lot of visitors.
Ruiz and Alvarez are the restaurant's chefs, but Bonilla manages the business operations. He already had 15 years of business experience when he opened Joe's Auto Body and Frame Repair on Sheller Road 15 years ago.
But the restaurant business is a little different. He manages six employees and must keep the business open from 8 a.m. to 9 p.m. seven days a week.
Despite the work, Bonilla says he and his partners feel very lucky.
"We are really religious people," he said, "and we feel this is a blessing."