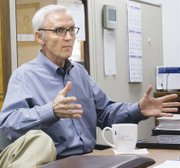 To develop property surrounding the Sunnyside Airport, the Port of Sunnyside must first develop a master plan.
That's according to John Nelson of Maul Foster Alongi in Portland, Ore.
Last night, he told the commissioners the development of a master plan would not be as difficult for the Port of Sunnyside because much of it would be founded upon the plans for developing East Edison Avenue, the Golob Landing project.
Nelson said his comments apply to both the Port of Sunnyside and the city because the two entities would be working together to develop the property surrounding the airport, but a master plan must incorporate a mission statement.
To better illustrate his point, he developed an example mission statement based on the mission of the Port of Sunnyside. The mission statement included the port's aim to help the local economy by developing industry.
"It's about uplifting the value of the real estate, employment growth and economic benefits to the community," said Nelson.
Because of his familiarity with the East Edison project, Nelson said many of the same goals and objectives can be used in developing the airport properties.
A master plan would include standards of design and quality construction. That, he said, has been established with the Golob Landing plans.
"It's also best to engineer according to existing city codes and the FAA layout plan of the airport," said Nelson.
Currently the Port of Sunnyside is in good position and he suggested an economic analysis and look at target industries be completed for the master plan.
Sunnyside, said Nelson, is in an economically stable area. However, the Central Washington region is an aggressively competitive area for industry and development.
"Careful planning is important," said Nelson.
The Port of Sunnyside also must answer whether the community is opportunistic or risk averse, meaning is the community open to the idea of development knowing it will not see direct results for a certain length of time.
To further explain, Nelson used several other communities as examples of long-term development projects. One such project was the Portland Airport. Nelson said the plan for the development of property there was completed nearly two decades ago, but the results took years to realize.
"A well designed, well planned site will increase economic growth in a community," Nelson told the commissioners.
Port Commissioner Jeff Matson spoke up and said, "I believe it's important to know what is a reasonable time frame...you don't complete things overnight."
Nelson agreed, stating the process takes a substantial commitment, but the end result is more jobs, more economic development.
"The platform you are starting from is a plus," he said, noting the Golob Landing project provides the Port of Sunnyside a good starting point for planning ahead.