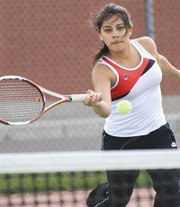 The Sunnyside High School boys and girls tennis teams were hoping for a win last night against Kennewick.
Both the Lady Grizzlies and the Lions girls were without a win on the season, however Sunnyside was only able to earn a victory in girls No. 1 doubles action.
The lone girls win was earned by teammates Emily Meyer and Jessie Robert. The duo battled Dayna Bolt and Bethany Bjur of the Lions through the first set for a 6-3 victory. The Lady Grizzly duo dropped the second set after another grueling fight, 6-4. They battled back and handed Bolt and Bjur a 6-0 defeat in the final set.
"Our best (boys) match was No. 1 doubles, where our team took the Kennewick team to deuce many times, but couldn't put it away," said Grizzly Coach David Downing of the boys side of the courts.
He said he had high hopes, but he is proud of how well the Sunnyside teams played through adversity.
For the boys No. 1 doubles team of Iran Brambila and Ricardo Sanchez, the score doesn't tell the whole story. The duo battled for every point against Akshai Baskaran and Stehen Moses, yet fell 6-3, 6-2.
"We were overpowered by a very strong boys team," said Downing.
Zach Halma and Jacob Martin paired up in No. 2 boys doubles action, but the newly established Sunnyside duo fell to David Ryther and Taylor Osborn of the Lions 6-0, 6-1. Grizzly teammates Martin Reynoso and Adrian Soberanes also suffered a loss in No. 3 doubles action. Kennewick's Jackson Diaz and Sam Stephens handed them identical 6-1 losses.
In singles action, Scott Laverman (No. 1), Jaime Garcia (No. 2) and Josiah Miranda (No. 4) of Sunnyside all fell by identical 6-0 scores in each of their matches to Kennewick's Joel McKenzie, Brock Schuh and Carson Evans, respectively.
No. 3 singles player Eric Kohan of the Lions defeated Sunnyside's Jonathan Gutierrez 6-0, 6-1.
For the girls singles players, a battle brewed in No. 2 play between Sunnyside's Amanda Villarreal and Madison Croft of Kennewick. Villarreal fell 6-1 in the first set, but as hard as she tried to overcome her opponent, she couldn't in the second set. Croft defeated the Lady Grizzly with a tie-breaker, 7-6 (7-4).
"Amanda was playing with a non-dampened racquet, which made her shots unpredictable," said Downing, stating the match was out of control by the time Villarreal was able to predict her shots.
No. 1 girls singles player Christine Kim of Sunnyside was defeated by Stephanie Buckingham by identical 6-0 scores; Marissa Scott of Kennewick handed Kassie Ortega a 6-1, 6-0 defeat in No. 3 play; and in No. 4 singles action, Ashley Marquez of Sunnyside suffered a 6-1, 6-0 loss to Sadaf Changle of the Lions.
No. 3 girls doubles was another exciting match to watch. "The No. 3 girls lost a disappointing situation after a fierce first set," said Downing.
Lydia Robert and Adilene Torres fought through the first set with Crystal Mejia and Lydia Rodriguez of Kennewick to win via a tie-breaker, 7-6 (7-3). The Lady Grizzlies battled with the Lions again, but fell short of winning the second set, 6-4. In the final set, Mejia and Rodriguez again were victorious, 6-0.
"Even though we are struggling as a team for our first wins, our players don't give up...our drive to win is always there and we try our best. I am proud to be associated with this team," said Downing.
The Sunnyside tennis teams will next host Southridge this coming Thursday.