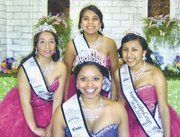 After months of working and designing the Sunnyside community float the Miss Sunnyside Court will unveil its efforts on Thursday, April 21, at 6:30 p.m. in the Sunnyside High School parking lot.
The float will be on display for up to 40 minutes before the court embarks on the float's inaugural parade.
The annual Torchlight Parade will begin at the high school and wind its way down Edison Avenue, where it will end at Central Park.
This year's Grand Marshal is Pam Turner, director of the Sunnyside Chamber of Commerce.