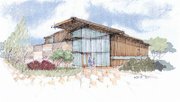 Sunnyside School District Superintendent Dr. Rick Cole last night made an appearance at the Port of Sunnyside commissioners meeting.
He detailed plans for a building to house the YV Tech center, stating funding is all the center needs.
"This is a ready project," said Cole.
He said the Sunnyside branch is hoping the legislature will provide funding for the project.
Legislators, said Cole, have been working on the Washington state capital budget. In the House, he said, funding is included that would help the project move forward.
The project is budgeted at just more than $5.7 million, but the state Senate has only left in the capital budget funding for westside tech centers, according to Cole.
He only learned of that yesterday and hopes the two branches of the legislature can meet somewhere in the middle because the Sunnyside branch of YV Tech is ready to move forward.
If funding is secured, the new 12,750 sq. ft. facility would be housed next to the new bus garage on Barnard Road, Cole told the Port of Sunnyside commissioners.
It would house welding, nursing, office skills and mechanics programs.
Port Commissioner Jeff Matson said, "There aren't many projects like this."
Cole agreed, stating he urges the commissioners and community members to call legislators to encourage funding for the project.
He said he is pleased with the growth of the YV Tech programs and is eager to see more opportunities provided to local students through use of new facilities.