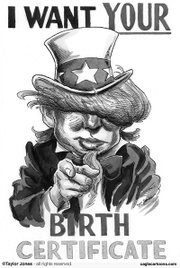 A businessman would make an excellent president. If someone like Jack Welch who knows how to manage a complex company with varying departments, huge egos and thousands of working pieces were to run, I'd consider supporting him.
Unfortunately, no person who actually has run a successful huge company would ever consider taking on the miserable job of president of the United States. Being president pays poorly, the hours are bad and, though, the perks are pretty good, they're hardly worth having half the country question every decision you make.
We're long past the point where anyone actually runs for president out of duty or for the glory of their country. Instead, the only reason anyone runs for president is that from an ego point of view, there's no better job. No matter the downsides being president makes you the most powerful person in the world (sorry Oprah) and only someone with an outlandishly large sense of self-worth would even consider taking on the job.
That, of course, brings us to one Donald J. Trump - a cartoon businessman and a shameless self-promoter. The only difference between Trump and actual promoters like Don King and Vince McMahon is that Trump uses his personal fame to make real estate deals instead of boxing or wrestling matches.
If the United States needed someone to get other countries to change their names to variations of "United States of America," then Trump would be our guy. Since we need someone to downsize government, figure out health care and, oh yeah, end the at least two, perhaps three, wars we are in, than we might want someone with a little more substance.
Being really rich and famous may make you a viable candidate for the presidency, but it does not make you qualified for the job. Trump gives good press conferences because he's an amusing buffoon who knows how to get attention.
He has done that by launching himself into the presidential election on the back of the "birther" controversy. Instead of laying out policies or explaining his positions on anything, our orange friend with the bad comb-over has chosen to revive the debate about whether President Barack Obama was born in the United States.
Putting attention on that issue is sure to win you support from Tea Party radicals and other talk-show-fueled nut-jobs, but it has no bearing on the actual running of the country. And, realistically, Trump has about as much business running this country as he does taking over for Mick Jagger in The Rolling Stones.
Being famous does not equal being smart. Even being wealthy does not equal being smart, though, it would be hard to call Trump dumb - it's impossible to see how his particular brand of intelligence translates to being president of the United States.
We have lots of successful people in this country, but does anyone think Eminem or Snooki should hold the presidency? Kobe Bryant has a ton of money, but I wouldn't turn over the nuclear football to him just yet.
The sad thing is that if any of those folks ran, they would probably have a shot.
- Daniel B. Kline's work appears
in more than 100 papers weekly (dan@notastep.com).