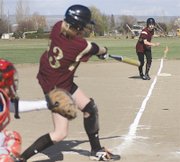 With nine freshmen on its 11-girl roster, the 2B LaSalle Lightning was no match for the 1B Sunnyside Christian High School girls fastpitch softball team yesterday afternoon.
The host Lady Knights cruised to a pair of 14-3 and 17-1 non-league victories. Tuesday's two wins boosted Sunnyside Christian's overall record on the spring season to 10-2.
LaSalle hurler Carly Sattler only allowed seven hits and three walks in the first game yesterday, but with five Lightning errors behind her and too many passed balls to count, Sunnyside Christian had free rein on the base paths and scored at will.
The final 14-3 score in the opener was aided in large part by the hitting of pitcher Makayla Morrow and center fielder Grace den Hoed. Morrow was a perfect 3-for-3 at the plate, two of those hits being doubles. She drove in three runs in the process and also scored three times. The outfielder den Hoed was 2-for-3 with a double and one RBI to her credit.
On the pitching rubber in the first game, the sophomore Morrow scattered three hits while walking none, fanning 12 LaSalle batters in the shortened five-inning affair.
The game two pitcher for the Lady Knights was senior Janelle DeGroot. She earned the 17-1 decision by spreading out four hits while walking one and striking out four hitters.
Sunnyside Christian plated its 17 runs in the nightcap on just four hits, although Lightning hurler Brianna Rosencrance did give up 14 free passes to the Lady Knights.
Morrow and den Hoed were again the hitting stars for the winners. Morrow socked a two-run homer in the bottom of the fourth, driving in a third run with a sac fly; and den Hoed was 2-for-2 at the plate.
Sunnyside Christian takes to the road this coming Thursday for a league doubleheader at Klickitat.