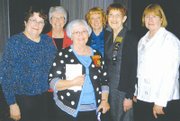 OLYMPIA - Five Delta Kappa Gamma educators from the Lower Yakima Valley attended the Alpha Sigma State Convention in Olympia April 1-3.
Last summer, Delta Kappa Gamma partnered with UNICEF to support "Schools for Africa," a project to train teachers, build schools, clean water resources and separate bathrooms for boys and girls, as well as provide school supplies and play equipment in 11 African countries.
Since July 2010, Delta Kappa Gamma has raised $10,000 for African schools.
A new state project called THAT (Teachers Helping Another Teacher) asks experienced educators to assist early career educators during those challenging first years in an attempt to keep quality teachers in education.
Delta Kappa Gamma is an international society for key women educators in 17 countries, whose vision is to impact education worldwide.
Also, Washington state Delta Kappa Gamma and local chapters provide scholarships and stipends to women educators for advanced degrees, completing an education, or special porgrams.
During 2010, Washington state and its local chapters awarded more than $70,000 in scholarships and stipends.