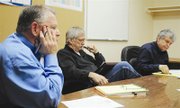 At a sub-committee meeting held last night (Tuesday) at City Hall, councilmen Pablo Garcia, Tom Gehlen and Don Vlieger set City Manager Mark Gervasi and Deputy City Manager/Chief Financial Officer Byron Olson on a path toward defining the city manager's purchasing power.
The councilmen received a list of various Washington cities and how they have managed their city manager or city administrator's purchasing authority.
Several smaller cities have no official policies regarding their city administrator's purchasing authority, but most with a population close to Sunnyside's (more than 15,000) have something formal in their city code.
Toppenish, College Place and Grandview, each with a population around 9,000, have no official guidelines for their city administrator but they have limits, such as College Place, which allows for the city administrator to approve purchases up to $7,500 without going to their city council.
Other cities, such as Ellensburg, have an official policy that lays out the purchasing power of department heads as well as their city administrator.
The councilmen agreed that they'd like to see Gervasi and Olson write up a policy that sets parameters on the city manager's purchasing authority.
This policy would officially limit the city manager's spending power, but also leave some room for the manager to make purchases without having to go to the city council.
Olson revealed that this power is important for emergency purchases, such as a blown engine or transmission in a city vehicle.
"The last thing I'd like to do is tie your hands unnecessarily," said Councilman Garcia to Gervasi and Olson.
Gervasi and Olson will work on the policy and bring it back to the sub-committee for review before it heads to the city council.