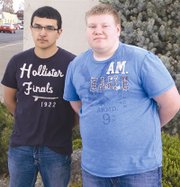 Anthony Zapata, 16, and Kenyon Jeske, 15, are planning a return trip this July to Camp Cross at Lake Coeur d'Alene.
To get there, the youths from Holy Trinity Episcopal Church in Sunnyside are again planning to do summer chores to pay for the trip.
Kari Zapata is Anthony's mom and Kenyon's older sister. She said the boys do tasks ranging from yard work to hauling away debris in exchange for donations. She says last year they even helped an elderly woman install an air conditioning unit.
It's going to cost $660 combined for the two boys to make the trip to Lake Coeur d'Alene, which covers all expenses and transportation for a week at the camp.
Anthony Zapata smiled and said the food is really good at the camp, but there's more than food served at the camp.
In fact, says Kari Zapata, the camp has taught the boys to serve. This will be Anthony Zapata's third trip to camp and Jeske's second.
"They both are more understanding and open to other people," she says of how the camp has impacted the boys. "They're more appreciative of the stories and wisdom that older people offer."
The two boys credit long-time Holy Trinity member John Saras for pointing them to Camp Cross. "He enjoys encouraging kids to go to camp," said Kari Zapata.
She adds that it's important for the boys to earn their own way to camp.
Jeske agrees.
"It's giving us work experience, teaching us to earn money to pay the bills," he said.
This summer's fundraising work will also help Anthony Zapata attend an eight-day Episcopal youth event in Minnesota this June.
Half of Zapata's time in Minnesota will be spent at a church conference, while the other half will focus on serving at a homeless shelter.
Kari Zapata said that church trip will cost another $1,000.
To have the boys help out around the house or yard this summer in exchange for a contribution to their camp/conference fund, call Kari Zapata at 831-5963.
A savings account has also been established for the boys church travels in Anthony Zapata's name at US Bank.
More like this story