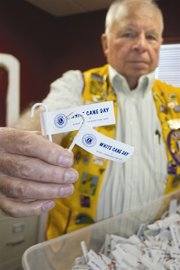 The white cane has long been a symbol for the blind, and during the next two days the Lions Club of Sunnyside will embrace that symbol as a fundraiser for the visually impaired.
Linn McBride of the Sunnyside Lions said small white canes will be given to all who donate to the Lions fund to help the visually impaired.
Lions Club members will be at the Sunnyside Safeway tomorrow, Friday, from 10 a.m. to 5 p.m. and Saturday from 8 a.m. to 3 p.m.
McBride says $800 was raised from last year's white cane fundraiser. He notes the funds help those who don't have the funds for needs such as prosthetic eyes, glasses and cornea transplants.
"We try to keep as much in the community as we can," he said.
Information is also on-line at www.nlfoundation.org.
Nationwide, Lions clubs have reached out to the visually impaired since 1925, when Helen Keller encouraged an international gathering of Lions Club members to help the cause.
McBride said any donation amount will be appreciated this Friday and Saturday.
"Whether it's 25 cents or $20 it all adds up," he smiled.