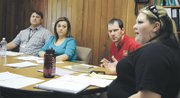 Wednesday afternoon, the Board of Parks and Recreation met to discuss progress in setting up and opening Sunnyside's various parks and facilities.
Various concerns about local parks were brought to light, including the status of the gazebo in Upland Park. The city is busy putting it together and Board President Kari Zapata revealed that she knows some children who are interested in putting it together.
Work is also underway to improve the bleacher's positions at the Sunnyview Park softball fields, Shane Fisher of Public Works revealed. In previous years, weeds grew under the bleachers and had to be sprayed with chemicals. Currently, crews are working to place a protective sheet of fabric and rocks on which the bleachers will be placed.
Sunnyview Park is also expected to open to the public today (Thursday). Public Works employees had to wait for the test results from a water sample to come back clean before they could begin to open the park and its facilities.
The pool is also under repair as crews work to install new drain suction covers. Fisher anticipated the pool's opening date to be June 11.
"As far as I can see, we're still going to hit that date," he said.
The board is also planning a public meeting on May 18, at 6:30 p.m. They would like the community to come with their ideas and questions so that they can get an idea of what the public wants to see come out of the parks and recreation board.
A location for the meeting has not been confirmed.