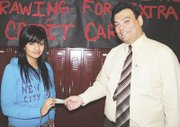 Attendance is critical to academic success, but sometimes getting students to show up to class everyday and on time is a challenge.
This year, Sunnyside High School has had a goal of getting their attendance up to 94 percent.
One way they have been encouraging students is through an attendance incentive program. The program awards students in one of two ways.
Students who have perfect attendance are entered into a bi-weekly drawing for an extra credit card.
Forty students from each class are drawn for this little card, which they can present to any of their teachers. The teacher can then decide how much extra credit the card is worth to the student's grade.
These cards can mean the difference between a passing and failing grade, Sunnyside High School Assistant Vice Principal Wally Shearer said.
The school does a similar drawing for students with a 90 percent or better attendance rate. This time, only 20 student names from each grade are drawn. Their names are announced over the intercom to the whole school and Shearer says these students rush to the front office to retrieve their prize - free food!
Well, in some cases it's free food. Other times it's a free soda. But no matter which coupon promising a free item they get, there is one thing that is guaranteed - these special treats were made available by local Sunnyside businesses.
Jack-in-the-Box, Taco Bell, Little Ceasar's and McDonald's have all stepped up to offer their support of the Sunnyside School District by offering them coupons for free menu items to use in their incentive program.
"These guys have been very gracious and very, very supportive," Shearer said. "I can't express enough appreciation."
Shearer says the businesses have been wonderful about offering their support to the school and have amicably accepted changes at the high school that may affect them, such as closing campus for lunch.
These restaurants were once a staple of lunchtime fare at Sunnyside High School, but now open campus depends on student achievement, attendance and behavior, and even then, campus only opens for seniors and juniors.
The restaurants accept this change and recognize its importance.
The coupons offered by Jack-in-the Box, Taco Bell, Little Ceasar's and McDonald's have become something that students readily look forward to receiving. In fact, they have quickly become a way for students to begin a dialogue on attendance among themselves.
Shearer says the public announcement has also given many students the opportunity to be recognized, when they otherwise would not be.
These students, the ones who attend class and perform well in school, but aren't distinguished from the rest, get an opportunity to stand out and be honored in a very public way.
And now that these students, and others at Sunnyside High School, are showing up for class to earn their chance to be a part of this unique lottery, the learning is starting to catch on, because getting students into the classroom is the first step to educating them.