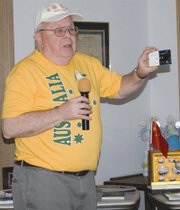 GRANDVIEW - The Lower Valley Seniors Network last night hosted an International Armchair Travel Night for the community.
Dale Burgeson presented a slideshow and information he gathered while traveling to Australia and China.
He said his trip to China was fascinating and he enjoyed eating...a lot.
Burgeson said many of the photos he snapped while in China included food because meals were abundant with food and frequent. He said he wasn't very adept at using chopsticks, but by the end of the trip he was better at it.
While traveling to China with his cardiologist, Dr. Chow of Seattle, and four others, Burgeson and his group stayed with the doctor's family. Because Chow was born prior to the one-child per family law implemented in her home country, Burgeson said, the doctor is one of five children and her four brothers were referred to as brothers one through five.
The trip took place last October. "We expected it to be warmer, but it was cold and rainy and blowing when we arrived in Beijing," he said.
Arriving in Beijing, Burgeson said, he was also surprised to see many Starbucks locations. "They have a lot more rice drinks, but if you want a latte you will receive the same latte you would get in the U.S.," he said.
Another familiar eatery he saw was a KFC, where the food is the same as it is locally. The only difference between KFC in Beijing and KFC in either Sunnyside or Prosser is the price of a meal. "You can get an entire meal for just more than one American dollar," said Burgeson.
He said his group left the airport in Beijing and about four hours later was treated to a foot massage. "It sure felt good after a long flight," Burgeson shared.
He said pedicabs were the method of travel the group first experienced. A lone cyclist pedaled the group from one location to another.
"Meals were continuous...every meal had rice wine with it," Burgeson said of his first taste of authentic Chinese cuisine.
"Us Anglo guys, it knocked our head off," he laughed.
Another common staple, he found, is sticky rice. He said every meal was accompanied by the grain. Burgeson said sticky rice is much better than the rice commonly used for meals in American dishes.
Burgeson also on the trip tried turtle, sea cucumber and white jellyfish. None of the delicacies had much flavor, he said.
In addition to Beijing, Burgeson and his group visited Xian. To get there, the group traveled eight hours by rail car.
The experience was enlightening, however. He said it was a slow ride, but China will soon be using speed trains.
While at Xian, the group ventured to the Great Wall of China, which was constructed more than 1,000 years ago. Burgeson said the wall is 7,000 kilometers long.
The group also visited the market place and learned it is an insult to merchants if one does not bargain for the merchandise.
"A lot of the shops also sell dried fruits...the stuff is really good," said Burgeson. He said his favorite dried fruit was the persimmon.
The travelers also visited the site where the famous terra cotta soldiers were discovered. The site is still under excavation because the statues were only discovered in 1979. They were discovered by a farmer of Xian and approximately 8,000 of the 6'-7' statues have been unearthed so far.
"Each statue is unique...no one soldier is alike," said Burgeson.
"One thing I noticed in China was they have beautiful artwork," he said after showing a photo of what Americans might refer to as a breezeway. The structures he photographed and many of the walls were covered in Chinese artwork.
Burgeson's group also visited the 2008 Olympic games site, several temples, the Forbidden City (which foreigners cannot enter) and palaces.
The most common animal life spotted in China include the water buffalo and ducks.
Burgeson said anyone wishing to travel to China should do so with someone familiar with the territory.
His travels to Australia were more abbreviated. Burgeson said he only had a short presentation regarding that visit.
He showed photos of the famous Sydney Opera House and animal life. He said he visited the site of the World Cup, which was very crowded and found the country to be vast and expensive for those living there. He said the country has very high taxes.
Burgeson said one very fascinating site was that of a shark pool. It was a bay-like area filled with sharks.
He also saw crocodiles. "I didn't see Crocodile Dundee because he was further north and east of us," Burgeson told one person inquiring of his travels to the "land down under."
Those attending the presentation were also treated to foods from both China and Australia.
Burgeson had one final note, "Travel with someone familiar with the territory."