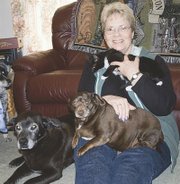 Sunnyside Presbyterian Church will host its annual blessing the animals event Saturday, May 7, at 9 a.m.
Animal lovers of all ages are invited to bring their favorite furry companions or feathered friends to the event, whether a special part of the family or a favorite animal from on the farm.
Weather permitting, the blessings will be bestowed upon the dogs, cats, hamsters, turtles, birds or any other family pet in the courtyard of the church. Animals will be blessed in the church's gymnasium if the weather turns unpleasant. Larger animals will be blessed in the church parking lot.
Animal owners are urged to properly cage or leash the animals for safety.
Snacks will be provided for both participants and their beloved animals.
Also, the church will be blessing farms Sunday, May 1. The event will take place at 9:30 a.m. in the church sanctuary.
Those interested in having their farms, gardens or yards blessed are invited to bring a container of soil to the blessing of the farms event.
The blessing of the animals and farms events are in recognition of God's provision. He is the one to bless us with all that we grow, produce, flowers and other products of the earth, according to Rev. Katie Haney.
The tradition is a long-standing one that dates back to eighth-century Europe. There it is known as Rogate, and is meant to recognize God in His willingness to provide for those on Earth.
Committee members organizing the event include Lauren Meeker, Betty Carlyle and Linda Johnson.
For more information about the events, call Sunnyside Presbyterian Church at 837-4314.