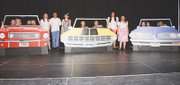 GRANDVIEW - Leader of the Pack is a rockin' Broadway musical about a young songwriter making her way through the male-dominated music world of the 1960s and this weekend, Leader of the Pack will make its way to a local stage thanks to Grandview High School's Drama Department.
The musical is based on the real life story of Ellie Greenwich, who was one of the music industry's first female producers.
Leader of the Pack was first staged on Broadway with Greenwich playing herself. Tonight, Grandview students Casandra Amriz and Alice Herrera will take on the enormous task of bringing Greenwich to the stage for local audiences.
Ambriz will portray a young Greenwich, while Herrera will play the adult Greenwich.
Also taking the stage with Ambriz and Herrera will be Milagro Castilleja as Jeff Barry, Sawyer Schilperoort as Gus Sharkey, Jenalee Mariotti as Darlene Love and Andrea Reyes as Annie Golden, among others.
Back stage, student Kaylee Greene will manage the sets, lights and sound with her crew.
Adult helpers include Charla Wheeler as musical director, along with assistance from Ed Wheeler. The production's assistant director is Leslie White with Melanie Manship directing.
Manship says she is very happy to bring this musical back to Grandview. She directed the show several years ago and has wanted to produce it again.
Her students, meanwhile, have thrown themselves into the production. Herrera and Mariotti have even served as choreographers for the musical numbers.
"They have hardships right off the bat that other kids don't have to handle," Manship said of her students, acknowledging their department's lack of a stage and the need to work around other groups' schedules. "But the kids rally. They love this. It's their passion and they're willing to do anything to make sure the show happens."
Manship added, "I am always amazed and inspired by the fact that they love it (theater) so much that they're willing to deal with these road blocks and I really think they've done an amazing job with the time they've had."
Leader of the Pack and its 24 musical numbers open tonight (Friday) at 7 p.m., with a $3 entry fee for students and senior citizens and a $6 entry fee for adults.
The show will return for three encore performances - one on Saturday, April 23, and two more next Friday and Saturday.
All performances will begin at 7 p.m. and will be held at Grandview Middle School located at 1401 West Second Street.