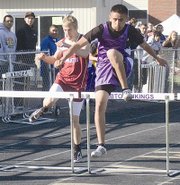 MABTON - Mabton High School track athletes provided strong performances last night during a home invite that included five other schools.
In girls competition, Mabton's lone athete, Cassandra Madrigal, came away with two first-place results. Madrigal earned first-place honors in the long jump with a mark of 13-6.25 and top honors in the triple jump at 28-11.
Bickleton was one of six schools at yesterday's meet, and the Lady Pirates produced three first-place finishes. One was the 4x200 relay team that finished in 2:02. The other two were Katelynn Clinton with a mark of 4-10 in the high jump and Jamie Venema at 29.41 in the 200.
In team scoring, Columbia-Burbank outpointed the other girls teams with 86 points, followed by Bickleton at 77, Riverview at 58 points, Cle Elum at 46 and Mabton at 16 points.
In boys action, Mabton enjoyed seven first-place finishes on the way to second place in team scoring.
The Vikings were led by Noe Gutierrez, who earned first-place honors in the long jump with a mark of 18-5.5 and the triple jump with a leap of 39-4.
The Mireles brothers also stood out for Mabton, with Emilio winning the 1,600 in 4:58 and Vicente taking top honors in the 800 at 2:20.94.
Jesus Huecias scored a victory for Mabton in the 300 hurdles with a clocking of 44.50. The Vikings tallied eight more first-place points in the discus, where Frank Martinez recorded a throw of 107 feet. Mabton's other top finish was in the 4x400 relay, with a first-place clocking of 3:46.87.
The Vikings scored additional points when Angel Reyna (5:55) and Ty Lyendekker (6:33) were second and fourth, respectively in the 1,600.
Reyna was also second in the 3,200 in a time of 12:44.34. Lyendekker was fourth in the 3,200 at 14:48.53.
Adrian Gutierrez was fourth for Mabton in the shot put with a mark of 34-7.5, while teammate Frank Martinez was fourth in the discus at 119-1. Gutierrez was also second in the discus at 103 feet.
In the long jump, Juaquin Maciel leaped 17 feet for third place honors.
Jose Lopez was second for Mabton in the 400 at 45.78, a little more than a second behind first-place finisher Peter Clinton of Bickleton.
The Pirate boys' other first-place finisher was Nic Venema with a time of 16 seconds in the 110 hurdles.
In overall team scoring, Riverview was first with 118 points, followed closely by Mabton at 103 points.
Bickleton's boys finished third with 69 points, with Columbia-Burbank at 23 points and Cle Elum at 22 points.
Mabton is next scheduled to compete at Riverview next Tuesday, while Bickleton is to compete at the Lions Invite in Goldendale today (Friday).