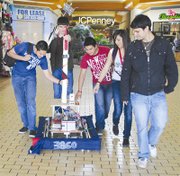 Although the Sunnyside High School Engineering Club did not earn a high rank at the FIRST Robotics Competition in Seattle last month, the students who participated in the program learned a great deal about the competition and are already planning a return visit next year.
This year's trip was made possible by JCPenney, which donated $6,000 to the Sunnyside High School Engineering Club for the competition's entrance fee.
The sponsorship is part of JCPenney's plan to bring rookie teams to the FIRST competition in various communities as they promote science and technology across the country.
Eugenio Rivera was one student who took the trip to Seattle in March, and said he learned a great deal about robots and got plenty of design ideas he will bring to the competition next year.
"There was never a point when you were like, 'we've got nothing to do'," he said.
Rivera and fellow club members were outside JCPenney last Friday to show off their robot. Store manager Lynn Giraud was there to welcome them and offer them $10 McDonald's gift cards to celebrate their work.
"These kids have great scholarship opportunities now because of this program," Giraud said. "I think FIRST is a wonderful program."
Engineering Club advisor Carl Walthers says the team is looking forward to return to the competition next year and implementing everything they learned from this year's competition.
Thanks to JCPenney's sponsorship, the Engineering Club has moved into a much bigger science and technology world. Not only are they planning to attend next year's FIRST competition in Spokane (and possible Seattle and Portland, if funding allows), but the students will be attending the Wind Energy Challenge hosted by MESA (Mathematics, Engineering, Science Achievement) in Richland on Thursday, April 28. For this competition, students will build a windmill that can lift a weight, pull a car and generate electricity.