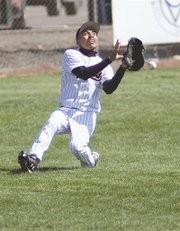 The Sunnyside Grizzly baseball team didn't have an answer for visiting Kennewick this past Friday, as the Lions prevailed 15-0 in game one and 22-2 in game two.
In the opener, Kennewick built an 8-0 lead through the first four innings, then put the contest away with an eight-run rally in the fifth inning.
The game was called in the fifth inning due to the 10-run mercy rule.
While the Lions batted around for 13 hits in game one, Sunnyside's only hit came off the bat of Miguel Mendez in the fourth inning. Mendez advanced as far as second base, the only Grizzly to get into scoring position.
Kennewick, meanwhile, benefitted from seven Sunnyside fielding errors, including four miscues in the fourth and fifth innings combined.
Kevin Lee pitched game one for the Grizzlies.
In the nightcap, Sunnyside started off much stronger by scoring what proved to be their only runs in the first inning. The pair of Grizzly scores were knocked in by Trey Serl and Mendez.
Serl ended up with two of Sunnyside's six hits in game two. Kennewick had 14 hits, but again benefitted from seven Grizzly fielding errors.
The Lions built a 10-2 lead through five innings, then erupted for 12 runs in the sixth frame to bring a halt to the contest. Two of Sunnyside's errors were committed during the key sixth-ining rally.
"We had a lot of dropped fly balls," Sunnyside Coach Terry Shines said of his team's 14 miscues for the day.
Pitching for Sunnyside in game two were Serl, Joel Ortega and Mendez.
Sunnyside (0-16) returns to action at Southridge this coming Friday.
Rod Smith/Daily Sun News
Sunnyside's Miguel Mendez misplays a shot to leftfield, but then recovered and threw out the runner at second base during this past Friday's action against Kennewick.