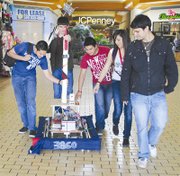 Sunnyside Transformation Yakima Valley, also known as Transformation Sunnyside, has three new board members. They are Gloria Mendoza, Lino Guerra and Cameron Garcia.
Mendoza is the owner of GMC Training Institute and believes in bolstering the community by providing individuals with training to improve job skills.
She is a proponent of partnering with the community and has donated Gems Leisure Hall to the Grandview Chamber of Commerce for its annual community awards banquet.
Mendoza was born in Mexico, but has called the Yakima Valley home since she was a young child. She describes herself as focused, making plans for what she wants to achieve. She surrounds herself with mentors and individuals who help her grow.
Because of that, she wishes to provide others with mentors and growth opportunities.
Mendoza became the owner of GMC Training Institute through hard work and dedication. She wanted to make the world a better place for members of the community.
After working for KDNA Radio in Granger, she worked at the Washington State Migrant Council and saved her money to embark into a world virtually unknown to women in the workplace.
Many tried to discourage Mendoza from opening GMC Training Institute, but she persevered and her business has grown throughout the years, including offering those interested in driving semi trucks training.
Guerra is the owner of Guerra's Deli & Café, as well as Guerra's Coffee Company, in Sunnyside.
Born in Granger, Guerra was taught to be respectful, positive and helpful. His father instilled in him those values as well as the importance of hard work.
Guerra firmly believes in promoting his community, whether it is through his businesses or through volunteering to help with community events like Cinco de Mayo.
The third board member, Garcia, is the new pastor at Oasis Community Church, formerly known as Sunnyside Church of God.
He is enthusiastic about doing whatever possible to promote community spirit. In an effort to do so, he has expressed an interest in Transformation Sunnyside's Asset-Based Community Development program.
Garcia wants to be an instrument of positive change. The first steps he has taken have included developing a roadmap for his church's direction. He wants to help Transformation Sunnyside launch the Asset-Based Community Development program, which has encountered many roadblocks.
He also volunteered to serve as a board member for Transformation Sunnyside.
Also, the organization is gearing up for its annual Loving Sunnyside Initiative.
Volunteers will be working on properties throughout the community, painting, cleaning up yards, completing minor repairs and helping property owners in need.
For more information about Sunnyside Transformation Yakima Valley and its efforts, including the Loving Sunnyside Initiative set for Saturday, May 14, visit the organization's website (styv.org).
To volunteer with the Loving Sunnyside Initiative, call 509-952-5650 or email l-lwerk@charter.net.