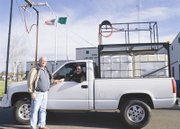 The Sunnyside City Council last night approved a biennial budget amendment that will fund additional police officers, new patrol cars, municipal court services and several other needs decided upon by council.
Included also was an adjustment to the city's general fund that will provide monies for the limited tax general obligation bond for the West Sunnyside Business Park, formerly known as the Monson feedlot property.
"Debt service in those previous years had been approximately $132,000," Deputy City Manager and Chief Financial Officer Byron Olson explained to council.
That payment increased by more than $103,000, and the council, as a result of approving the overall budget amendment for 2011-12, allocated the funding necessary to repay the bond.
Another $36,000 was approved to pay for the operations of the Sunnyside Community Center through the remainder of 2011. Sunnyside's Promise will continue operating the center.
Another $5,000 was transferred to the Parks and Recreation fund to extend the swimming pool season by two weeks.
For police, the news is promising. The budget amendment includes more than $90,000 for the crime analyst position approved earlier this year, and another $133,000 each for two new police officers through 2012.
The police department will also receive more than $158,000 for four patrol vehicles anticipated to be received this coming August.
Olson said the funds are for operational costs, but the department may experience a decrease in overall operational costs for its fleet with the newer vehicles.
"Some older vehicles are reaching their tipping point," he said.
Councilwoman Theresa Hancock was unhappy she was hearing a budget amendment for new police vehicles just four months into the 2011-12 budget.
Olson said the city was operating off the system already in place during the budget season. At that time, it was decided an equipment rental fund was needed and discussions regarding the needs for newer vehicles did not take place.
"I'll take full responsibility for that," said Olson.
Also, the budget amendment provides funding for raises given to Municipal Court Judge Steven Michels and the city's prosecuting attorney.
The council also approved $14,000 in funding from its executive budget for the Uptown Sunnyside Association flower baskets and banners project. The association will sometime in May begin hanging flower baskets and banners on hangers located in the downtown Sunnyside corridor.
The budget amendment passed by a split decision of 4-3.