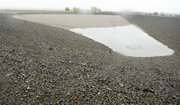 The final re-regulation reservoir in the Sunnyside Canal Improvement Project began to fill yesterday (Monday), signaling the near-end of the project.
The Sunnyside Irrigation Canal Project won't officially be completed until 2013, but with yesterday's filling, all the heaving lifting has now been completed.
Projects still left on the project include the installation of automated canal check structures and supervisory control and data acquisition.
The 37.10 re-regulation reservoir, located northeast of Sunnyside just east of SR 241 before Van Belle Road, is the third of three re-reregulating reservoirs constructed under the Sunnyside Canal Improvement Project. This project will conserve approximately 30,000 acre-feet of water. This water will be left in the Yakima River system, which will benefit fish and wildlife.
The project benefits Sunnyside Division Board of Control customers by improving water service. The main additional local and regional benefit, according to the Sunnyside Division Board of Control, is improved water quality.
Dick Haapala, an engineer with CH2MHill, the company that designed the reservoirs, said the reservoirs are for operational purposes. If more water is needed in the canal then the water in the reservoir will be pumped into it. If the canal has too much water in it, the excess will be drained to the reservoir for storage.
"In the past we've always had to keep extra water in the canal and it was wasted," said Ron Cowin, assistant manager of engineering at Sunnyside Valley Irrigation District.
Haapala said it will take about 10 days for the reservoir to fill up. The newly completed reservoir has a capacity of 300 acre-feet of water.
Once the reservoir is filled the pumps will be tested and some electrical work still needs to be completed. All work on the reservoir should be completed in early May, bringing the project completion date ahead of schedule by about eight weeks.
Rotschy, Inc. of Vancouver constructed the reservoir.
Cowin said the reservoir can fill at a rate of 100 cubic feet per second. The water can be pumped back into the canal at a rate of 50 cubic feet per second.