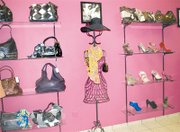 Those seeking stylish footwear, handbags and sunglasses need look no further than downtown Sunnyside.
Clara Lopez just 10 days ago, April 16, opened OMG Shoes at 519 South Sixth Street in hopes of providing women with affordable, stylish shoes and accessories.
She said the name of her shoe store is an attention-getter. "I wanted people to remember the name," Lopez said through her younger sister Norma Lopez, who interpreted for her.
She acknowledges the letters OMG are an acronym commonly used in today's pop culture. It typically stands for "Oh, my gosh!"
Because there are few locations where local shoppers can find stylish shoes, handbags and sunglasses, Lopez said she saw a void that needed to be filled.
"As a Hispanic woman," she said, "it is not always easy to find shoes that fit the style I want."
Lopez's store was a family venture. She opened it with the support and encouragement of family members.
OMG Shoes has all the latest fashions in shoes, purses and sunglasses. She said she may add on to the inventory at a later date, but currently wants to cater to the customers on a customized basis.
The younger of the Lopez sisters said, "She (Clara) opened the store to offer local shoppers convenience and affordable fashions. She wanted women to have the opportunity to find fashions that fit their own sense of style without having to leave Sunnyside."
Lopez added she offers layaway options, as well. She said she wants to ensure customers have every possibility of shopping with ease.
She also will custom order items according to the customer's needs.
"I want those who come to my store to have the ability to find items that fit their sense of style...everyone has their own sense of style and I want to serve their needs," said Lopez.
OMG Shoes is open from 11 a.m. to 7 p.m. seven days a week.