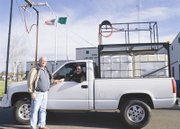 Cristy Ann Larsen, 47, of Lynnwood died on Friday April 15, 2011.
She was born June 15, 1963 in Pensacola Fla.
Cristy was raised in a military family and attended many schools during her education years.
She was a long-time employee of Albertson's, where she was a department manager.
Cristy is survived by her son, Kevin; her parents, Jon and Geri Setter of Seattle; grandparents, Helen and Les Amundson of Sunnyside; her sister, Jannine; her brothers, Erik and Anthony; and their respective families.
Private graveside services were held for Cristy.
In lieu of flowers, donations can be made in Cristy's name to Families & Friends of Violent Crime Victims, P.O. Box 1949, Everett, WA 98206 or visiting www.fnfvcv.org., Snohomish County.
A celebration of life will be held in her honor for family and friends at a later date.
Evergreen Washelli Funeral Home in Seattle is in charge of arrangements.
More like this story