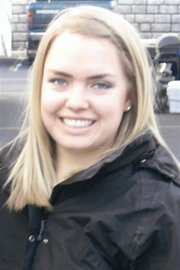 PULLMAN - Corrin Veiga of Sunnyside is not one to sit around and let life pass her by. She has spent her life as a committed member of various clubs and organizations, and her devotion is starting to pay off.
Washington State University's School of Biological Sciences selected Veiga from among all the school's physical therapy students to attend the Physical Therapy Association of Washington Conference held in Spokane.
The all-expenses-paid trip came courtesy of an anonymous donor. The conference was held at the Davenport Hotel on April 15-16.
Veiga said of the trip, "It was a great experience to get first-hand insight into the field of physical therapy and speak with physical therapists about their experiences working in the field."
Along with the honor of being selected by the Biological Sciences Department to attend the conference, Veiga was also recently awarded the Student Leadership Award from the department.
Veiga explains the award "is given to a student who demonstrates academic excellence and leadership skills on and off campus."
She was one of 20 students awarded the honor, selected from a pool of 180 applicants. The 20 winners also received scholarships that totaled $10,000.
On campus, Veiga is extremely active. This summer, she will be a part of WSU's ALIVE, an orientation program that helps introduce new students to the campus.
"I am so excited to meet new WSU students and welcome them to the Cougar family," Veiga said.
Along with welcoming new students, Veiga is also an International Peer Mentor. She helps international students through orientation and plans events through the semester for those students to experience.
Veiga also recently co-founded the WSU Spanish Conversation Club. She and her classmates were frustrated with a lack of opportunities to speak and practice their Spanish languages skills, so they created their own.
"I am honored to share this experience with fellow students who also share the same passion to speak and learn Spanish," Veiga revealed.
And if she isn't busy enough helping all the new students and sharpening her Spanish language skills, Veiga is also in the Pre-Physical Therapy Club, assists with Student Support Services, is a student assistant from her anatomy Biology 315 class and a volunteer for Kadlec Medical Center for in-patient rehabilitation.
"It's really busy, but I've learned how to manage my time better," Veiga said of all her extra-curricular activities.
But Veiga has a lot of experience keeping a busy schedule. She is a member of Sunnyside High School's class of 2007, and Veiga made the most of her high school career.
By the time she received her diploma, Veiga had served as an Honor Society president, Key Club vice president and served on the 2005-06 Miss Sunnyside Court.
Veiga will graduate with a Bachelor's degree in both Biology and Spanish in May 2012. After WSU, Veiga is looking to entering into a doctorate physical therapy program and she hopes to work in a Spanish speaking community. She may even go abroad.