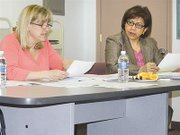 MABTON - With grant money and the general fund balance both dwindling, the Mabton School District may have to lay off up to 10 employees.
That's according to a report presented last night, Monday, to the Mabton School Board.
Gina Grow is the district's business manager, and during a special meeting with the board she explained that nearly $546,000 in stimulus funds will not be available after the current budget year.
To make matters more difficult, the district under the current budget will by this September draw down the general fund beginning balance by more than $1 million.
Grow and Superintendent Minerva Morales were hired after the 2010-11 budget was set.
The current budget calls for the general fund, which pays for day-to-day operations, to go from a beginning balance of $2.08 million as of September 2010, to $919,882 by the end of this August.
Grow said the ending general fund balance for August 2012 will be minus $536,000 if Mabton schools continued at the same staffing and spending levels for the 2011-12 school year.
To prevent that scenario, Grow said Mabton schools are overstaffed by nearly one administrator, nearly seven teachers and about two-and-a-half paraeducators.
If all of those positions are cut, that would be on top of two part-time positions reduced in the district office and a school secretary position eliminated.
Morales said there may be some staffers who leave the district this year, either due to retirement or moving to another school district. Those positions could be left unfilled to help meet the bottom line and reduce the number of lay-offs.
"Attrition will help us some," Morales said.
Board members also wanted to look at potential cuts elsewhere in the budget.
"That's too much," board member Blanche Tobin said of the nearly $168,000 spent on athletic coaches for 2010-11. "We are paying way too much," she added. "Pretty soon we're going to be like the state."
Looking at the nearly $263,000 total for sports expenses this school year, school board chair Elsa Sanchez also considered the district's options.
"If I had to choose between a teacher and sport I'd rather cut a sport," Sanchez said.
That discussion may be part of the budget considerations for 2011-12, but for now Grow said the district by contract has to consider staffing levels now.
"The dilemma we're in is we have some deadlines coming up," Grow said, noting the teachers union has to receive notification of possible layoffs by April 30.
In a related move, the board during its regular session last night approved a resolution notifying the union of "a possible reduction of force."
Like all school districts, Mabton is hampered in looking ahead to next year because the state legislature is still in session.
Mabton and other school districts will likely see state cuts in education, but the amount will depend on lawmakers hashing out differences between budgets presented by the house, senate and the governor.
For example, the governor proposes reducing levy equalization by 6.287 percent, while the senate proposes a 3 percent salary reduction.
"It's not an enjoyable situation," said Morales. "Every district is facing the same dilemma."