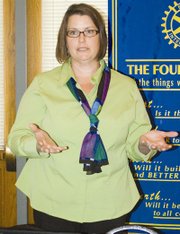 Merritt Mitchell-Wajeeh wants people in the valley to connect with 'good food'.
She told the Sunnyside Noon Rotary Club this past Monday that most fresh food in the grocery stores travels a thousand miles to Sunnyside businesses. This causes varieties, she said, to be chosen for their portability, rather than taste.
To help people in the Yakima Valley connect with 'good food', Mitchell-Wajeeh provides consumers with a choice to get fresh, organic vegetables 22 weeks out of the year. Better yet, the vegetables are grown right here in the valley on a farm owned by the Mitchell-Wajeeh family.
The idea for Heavenly Hills Harvest was first planted when Mitchell-Wajeeh was pregnant with her twin boys. It was then she became very interested in nutrition.
Her family moved to the Sunnyside area from Florida and settled on a 91-acre farm on South Emerald Road. Approximately two acres of this land is dedicated to vegetable production.
She told the Rotarians 80 percent of new family farms are owned by women and the majority of these are organic, multi-crop operations.
Mitchell-Wajeeh began a test garden in 2008.
"I realized how wonderful our soil was here," she said.
She soon began recruiting members to buy shares in her farm. She also began the WSDA organic certification process and joined the Washington Tilth Association.
Heavenly Hills Harvest is a community supported agricultural operation. Mitchell-Wajeeh explained that people buy shares of her farm and the dividends they receive are 20-22 weeks of fresh vegetables. The period lasts from June to the end of October.
Heavenly Hills Harvest produces an abundance of vegetables. There are several different varieties of tomatoes, cucumbers, lettuce, potatoes and just about any other vegetable that can be grown in the Lower Yakima Valley.
The produce is planted, tended to and picked by Mitchell-Wajeeh. She then packages up the vegetables and delivers them to her shareholders.
"Our goal is to promote eating good food," she added.
Heavenly Hills Harvest produce can also be found at the Farmer's Market in Prosser from June to October. She is working on developing relationships with local restaurants and chefs to supply them with vegetables, as well.
There are some new things coming out of Heavenly Hills Harvest in 2011. Mitchell-Wajeeh said she will host farm classes and training events at her farm this year. Already a workshop on raised garden beds has been completed, as well as a spring greens cooking class.
Mitchell-Wajeeh said she charges $550 for a full season of vegetables. Every week the shareholder gets a bag of produce. Shareholders can also buy in for a half season for $350.
She also has a work-share option. This allows people to offset the cost of membership by donating some time to the farm in lieu of payment. Several people have taken advantage of this option, she said.
She has approximately 20 members currently and said she would never go bigger than 30 or 40 customers. This, she said, allows her to maintain relationships with her members.
More like this story